William & Kate Fly Commercial Amid Harry & Meghan Private Jet Drama
By Emily Lee
August 22, 2019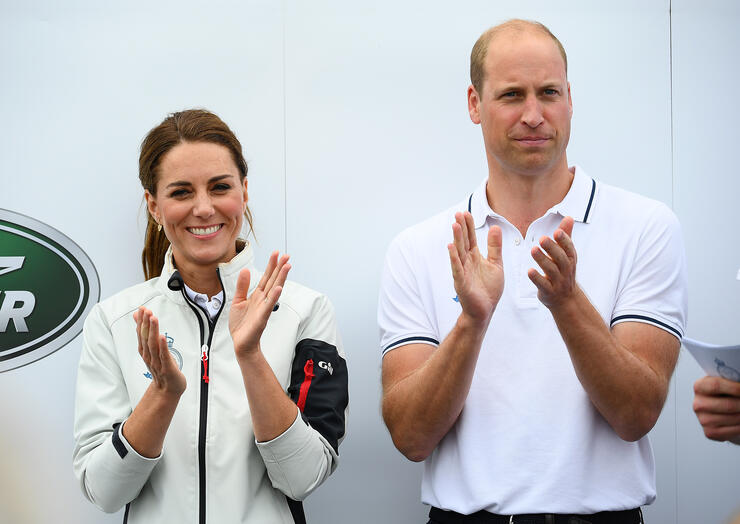 Prince William and Kate Middleton just took royal shade to a whole new level.
The Duke and Duchess of Cambridge were spotted taking a budget airline from Norwich, England to Aberdeen, Scotland amidst Prince Harry and Meghan Markle's ongoing private jet drama. Kate and William were accompanied by their three children, Prince George, Princess Charlotte and Prince Louis, as well as the family Nanny Maria Borrallo and Kate's parents.
The budget airline FlyBe confirmed that the Cambridge family did, in fact, take one of their flights to Scotland. "We were delighted to welcome the Duke and Duchess of Cambridge and their family on board one of our flights again, this time when they flew from Norwich to Aberdeen with our franchise partner Eastern Airways," a FlyBe representative told E! News. According to FlyBe's website, the cost of a one-way ticket from Norwich to Aberdeen can start at around £73, which is equivalent to $89.
A passenger on board the flight spoke to The Daily Mail about her encounter with the royals. "The family were sat right at the front. I fly this route all the time and we were none the wiser. No one knew they were on the flight. Later on I realized that Kate's mother was sat a few rows in front of me," the passenger revealed.
Though their fellow passengers were excited to have an unexpected run in with the royal family, many fans were put off by this story. Not long after news of William and Kate's trip broke, royal watchers criticized the Duke and Duchess of Cambridge of orchestrating the trip as a PR stunt. Meghan and Harry recently faced a ton of backlash after using a private jet. Royal watchers felt the timing was quite suspicious.
Chat About William & Kate Fly Commercial Amid Harry & Meghan Private Jet Drama