Billie Eilish Concert To Stream On Virtual Reality Platform Oculus Venues
By James Dinh
August 23, 2019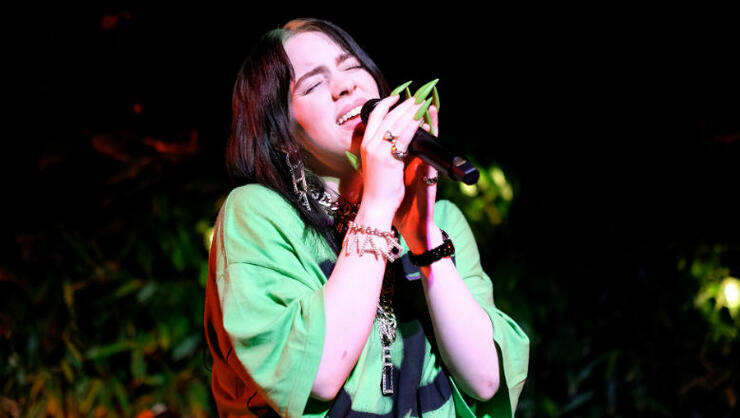 Billie Eilish is coming to Oculus Venues, the virtual reality platform that allows viewers to enjoy entertainment from the comforts of their own living room.
On Tuesday (August 21), the company announced that the pop titan's upcoming Madrid show on September 3 will be shot and available to watch later that evening beginning at 9:30 PM ET via Oculus Go, Gear VR or Quest headsets. Additionally, Oculus is partnering with the streaming company Supersphere for the upcoming broadcast. "It's really nice to be able to have something that makes the show so accessible, and to have a platform to bring the live experience to people who haven't been able to be at a show yet," Eilish said in a statement. "I just want everyone to have a good time. That's always my only goal, even when you're watching the show at home."
Eilish went on to reveal that the experience will becoming even more worthwhile during her performance of "COPYCAT." "I make everybody get really low, and we all jump when the drop comes in. Even though you'll be watching on a VR headset, you should still get low and jump with everyone," she continued. She joins a string of other acts that have teamed up with shows in Oculus Venues, including Lupe Fiasco, Everclear, Tenacious D and more.
Meanwhile, Eilish is performing at this year's Daytime Stage at the iHeartRadio Music Festival in Las Vegas on September 21st alongside a lineup of incredible rising stars. A lineup of superstars are also set to perform on the main stage at T-Mobile Arena throughout the weekend, and fans across the country can tune in and watch an exclusive live stream of the show via The CW App and CWTV.com. Then, on October 2nd and 3rd, relive all of the epic performances from the weekend during a televised special on The CW Network at 8pm ET/PT. And leading up to the official television special, The CW will also air an hour-long Best Of Special on Sunday, September 29th at 8 p.m. ET/PT.
Chat About Billie Eilish Concert To Stream On Virtual Reality Platform Oculus Venues