Ruth Bader Ginsburg Undergoes Treatment For Malignant Tumor On Her Pancreas
By Bill Galluccio
August 23, 2019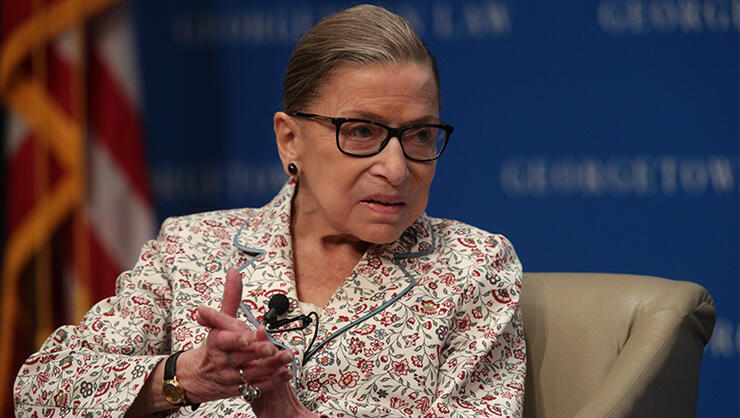 Supreme Court Justice Ruth Bader Ginsburg has completed three weeks of radiation therapy to treat a malignant tumor in her pancreas. Ginsburg has been undergoing outpatient therapy since August 5 shortly after the tumor was discovered during a routine blood test.
"The tumor was treated definitively and there is no evidence of disease elsewhere in the body," a Court spokesperson said in a statement. "Justice Ginsburg will continue to have periodic blood tests and scans. No further treatment is needed at this time."
The 86-year-old has now beaten cancer four times during her life. In 1999 she underwent treatment for colon cancer and did not miss a single day on the bench. Ten years later, she underwent surgery for pancreatic cancer and was back to work just 18 days later.
In November 2018, Ginsburg fell and fractured three of her ribs. A CT scan of her injuries revealed cancerous nodules in her lungs, which were removed during surgery a month later. Her recovery forced her to miss oral arguments for the first time in her career.
Ginsburg most recent battle with cancer has not impacted her much. She kept an active schedule while she was in New York receiving treatment. The Supreme Court Justice spent her evenings enjoying movies and theater shows, though she did cancel her annual summer trip to Santa Fe.
Photo: Getty Images
Chat About Ruth Bader Ginsburg Undergoes Treatment For Malignant Tumor On Her Pancreas