Video Of Blueface Knocking Out A Man Who Swung On Him Surfaces
By Peyton Blakemore
August 23, 2019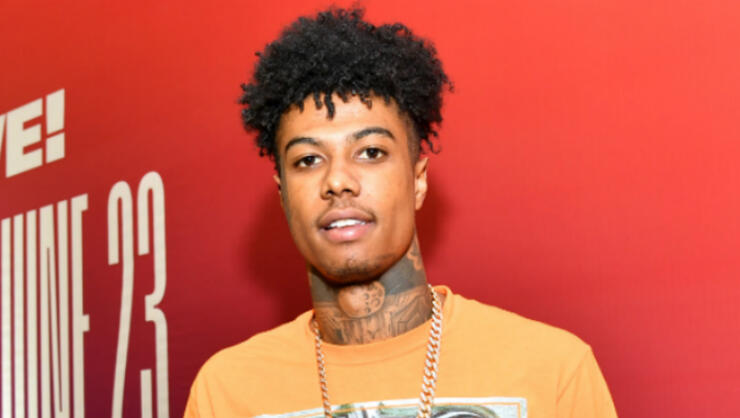 Don't pull up on Blueface unless you want to catch those hands!
The "Thotiana" rapper let be known that he's not one to mess with after he shared a video of him knocking a guy out cold. On Thursday (August 22), Blueface posted a video to his Instagram Story of him punching a guy that ran up on him looking to fight. In the clip, the 22-year-old rapper lays the guy out with ease after the unidentified man swung on him.
The next day, Blueface shared a clip of him laying the same hard right jab on a friend while sparring. In the short clip, the "Bleed It" rapper swings his right fist, which was thankfully covered in a boxing glove, and it lands square in friend's face, almost knocking him out. "Works every time," Blueface captioned the video.
To conclude his series of boxing videos, Blueface shared a clip of him fighting a guy at a park. In that video, he once again swung on the guy with a hard right jab, causing the man to stumble a bit.
When Blueface isn't knocking people out, he's engaging in other activities... well one specifically. While on "Big Boy's Neighborhood" radio show earlier this month, he got extremely honest about the number of sexual partners he's had in the first half of 2019, and let's just say, he keeps very busy!
"How many females do you think you've knocked down in the last six months?" Big Boy asked the Cali rapper. "Let's play higher or lower." The radio host then guessed "five?"
"Hell no," Blueface responded, seemingly offended by the low estimate. "Probably like 1,000."
Clearly shocked by the "Thotiana" rapper's response, Big Boy asked him to repeat himself.
"1000," Blueface replied. "I'm a f**cker [...] sometimes it might be a threesome, sometimes it might be foursome. I done had a fivesome — me and four girls. Yeah, it was pretty hard."
Photo: Getty Images