Gibson Launches Limited-Edition Chris Cornell Tribute ES-335 Guitar
By Andrew Magnotta @AndrewMagnotta
August 28, 2019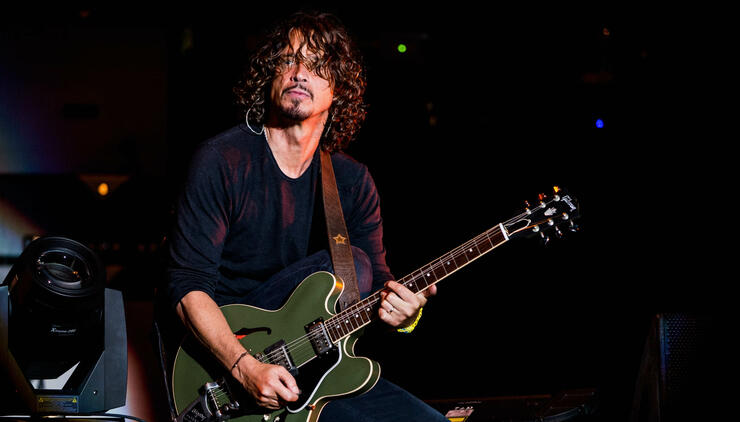 Gibson Guitars is paying homage to one of its most iconic players with a new limited-edition guitar, modeled after the one Chris Cornell favored for the final decade or so of his life.
While Cornell used many guitars throughout his career with Soundgarden and as a solo artist, it's hard to find a recent photo of Cornell playing an electric guitar that's not his signature "olive drab green" ES-335.
Gibson is now remaking the guitar as the Chris Cornell ES 335 Tribute, with all the same features and appointments the grunge icon favored on the guitars he used on stage and in the studio for so many years.
"Chris Cornell was not only one of the most iconic singer songwriters of all time, he was a modern innovator who left a legacy that transcends music genres and generations," Gibson's chief merchant officer Cesar Gueikian said. "Chris fell in love with this guitar and it became a part of his creative expression. It's our honor to release this tribute ES-335 in his memory. Chris was a special artist and we hope that this guitar will inspire fans to find their sound, and inspiration, just like Chris did, for many years to come."
Even the statue of Cornell that was unveiled last fall in his hometown of Seattle, Washington, depicts him playing his ES-335.
True to the principals of his grunge background, Cornell's signature ES-335 was unique because it took a classic Gibson design — often associated with the likes of B.B. King and Cream-era Eric Clapton — and downplayed many of the more decorative elements, like the the big block fretboard inlays and glossy finish. Cornell's model has simple dot fret markers and a satin paint job. There are no numbers on the control knobs, and Cornell's signature is tucked inside the body cavity, rather than on the back of the headstock, as is tradition with most signature guitars.
Gibson first unveiled the tribute at the 'I Am The Highway: A Tribute To Chris Cornell' concert earlier this year, announcing that the company was also making a donation and offering some of the limited-edition guitars to the Chris and Vicky Cornell Foundation to raise money to help at-risk children.
You can take a look at the specs or pre-order the guitar here.
Photos: Getty Images