Maynard James Keenan Explains TOOL's 'Crippling Fear' Over Its New Album
By Andrew Magnotta @AndrewMagnotta
September 3, 2019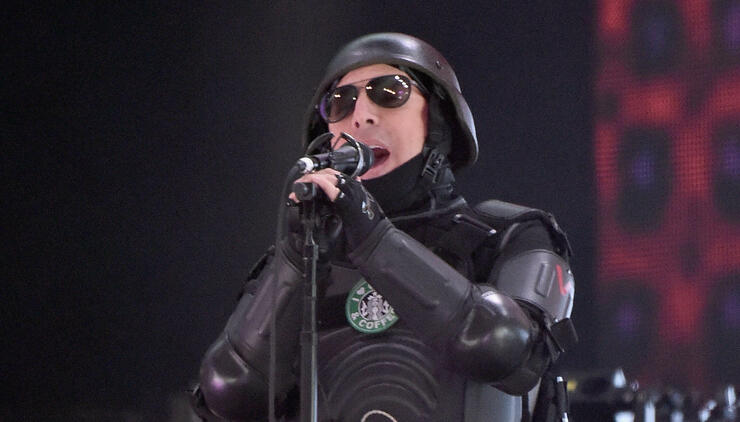 Over 13 years since its last album, Tool's Fear Inoculum was finally released on Friday.
There might have been no event more highly-anticipated in the rock/metal sphere this decade than the album's release, and singer Maynard James Keenan says the band felt an enormous amount of pressure to deliver.
Fear Inoculum is Tool's most expansive work in a career of uncalculated risks and soaring ambition that has always seemed to pay off. The album has been met with enthusiastic reviews and is all but assured to hit No. 1 on the Rock Albums chart, with a fall North American tour a good bet to sell out well before it takes place.
Keenan recently told BBC's Rock Show with Daniel P. Carter that fear was ever-present during writing sessions for the album, and that's the best explanation he can give for the decade-plus between 10,000 Days and Fear Inoculum.
"If I had to 'psychology 101' [it], I would have to say, 'Well, yeah, that's why it would take 13 years to write something, because you're paranoid that it's not gonna be the best that i can be and then you second-guess every single step that you make, when it was probably good enough — I shouldn't say good enough. It was fantastic eight years ago."
Tool has always taken several years between releases. Keenan lamented the band's lengthy process of revisions as far back as 2017 when he conceded that his bandmates, Adam Jones, Justin Chancellor and Danny Carey were grappling in their writing sessions with years of expectations.
In his recent interview with Carter, Keenan referred to "crippling second-guessing of yourself" and a resulting "spiral" that "can be extremely daunting." The 'inoculation' of which Keenan sings on the band's title track, may very well be the act of releasing album and putting to bed the speculation once and for all.
Keenan has generally left the bulk of the instrumental composing to Jones, Chancellor and Carey, but on Fear Inoculum he explained that at points he felt he needed to entirely remove himself from the equation.
"You have four strong personalities all fighting for space," he said. "So over the years, I've had to just step out of the room just to let them fight it out. Because just to have another opinion in the room; if you think it's gridlocked now, to have a fourth arrogant person in the room is not gonna help anybody."
Keenan has put out several recordings with his band Puscifer and one album with A Perfect Circle in the time since Tool's last LP. He says with Tool, he often felt there were "too many chefs" in the proverbial kitchen and that he was doing his part by waiting to be called to compose his vocals.
Ironically, it was Keenan who took the bulk of the blame for Fear Inoculum taking so long to be delivered. Fans interpreted the singer's other projects as directly contributing to Tool's lack of forward movement. Jones himself said it bothered him that Keenan was blamed.
He chalked up the 13 years since 10,000 Days as being a symptom of the each of the band members having more going on beyond Tool.
"It's hard to get us all in one room," Jones told Revolver. "Everyone's got their own thing going, so we kind of wait until everybody's ready to start the process. And that can be on and off between other stuff."
Tool's tour in support of Fear Inoculum begins October 15. Get all the tour dates here.
Photo: Getty Images