Watch The Who Debut New Song "Big Cigars" At Madison Square Garden
By Andrew Magnotta @AndrewMagnotta
September 4, 2019
The Who returned to Madison Square Garden on Sunday for the second leg of the band's 2019 'Moving On!' tour of North America.
The iconic British rock band used the opportunity to perform a new song, titled "Big Cigars," which is expected to appear on the band's next studio album.
Guitarist Pete Townshend told the audience that the new album will come out in November. It will be The Who's first new album since 2006's Endless Wire. Townshend joked that the audience should sit down while the band took a pass at a new song.
"Next year, hopefully, the songs that we released in November will be greatest hits!" Townshend added with a laugh. "Or maybe they won't. Listen, you can sit or stand, you can dance you can go to sleep, I don't give a f--k. You bought your ticket; it's a done deal."
Check out the video in the player above or here.
"Big Cigars" isn't entirely new to Who fans; it is a reworked version of a song called "Guantanamo" from Townshend's 2015 compilation album, Truancy: The Very Best of Pete Townshend.
The Who first performed "Big Cigars" this past summer at Wembley Stadium in London, along with another new song called "Hero Ground Zero," according to Rolling Stone.
Townshend told the magazine that he wrote the batch of new songs specifically for Roger Daltrey's voice. He said in January that Daltrey wasn't enthusiastic about recording the new material at first.
Daltrey later described the songs as "great," and explained that he initially was unsure whether he could add anything them.
Photo: Getty Images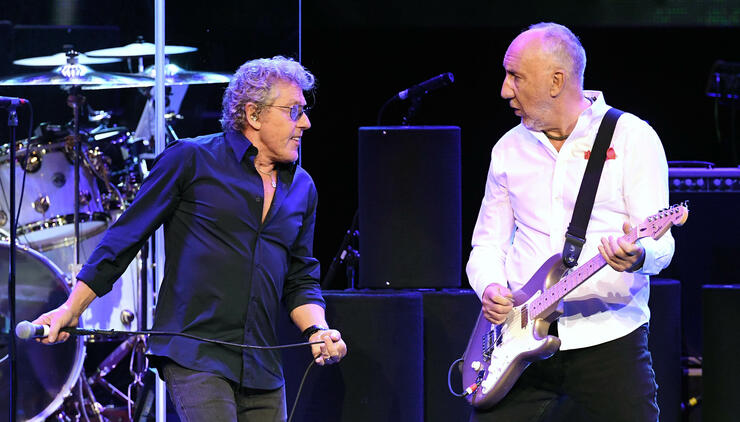 Chat About Watch The Who Debut New Song "Big Cigars" At Madison Square Garden