X Ambassadors Create Audio-Only 'Boom' Video For The Visually Impaired
By Katrina Nattress
September 4, 2019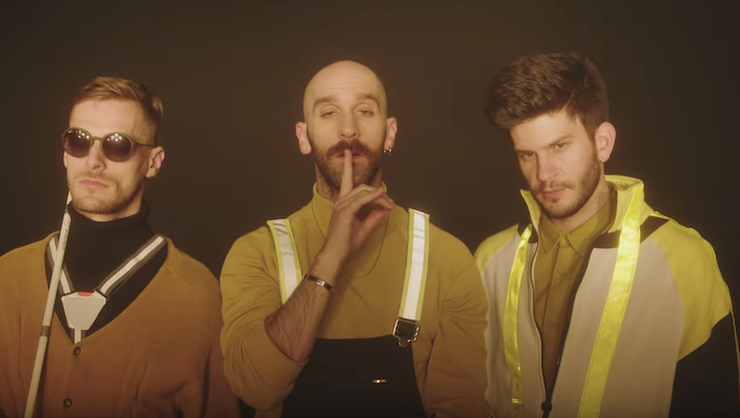 Back in March, X Ambassadors shared a visually intriguing music video for their single "Boom," only the band's keyboardist Casey Harris wasn't able to see it. He was born legally blind.
Growing up, he never understand the point of music videos since he was unable to experience them; however, when he and his brother (X Ambassadors frontman) Sam Harris started a band of their own and began gaining recognition, he began to recognize the significance of a visual counterpart for the music.
"[As] our band has become more and more successful and we've had to put out music videos and that sort of thing, I've started to understand what the [appeal is]," he told Billboard. "It's a full immersive narrative experience for a lot of videos.... It's something that actually changes to a certain degree how you listen to the music. That was sort of a revelation to me."
That being said, Casey wanted to find a way that he could immersive himself in a narrative like sighted people do. The band ended up partnering with Microsoft to create the Boom app, which features an audio-only music video for the single that allows visually impaired fans to interactive with the song in the same fashion as augmented reality via "responsive, three-dimensional" sound powered by Microsoft's Windows Sonic technology.  
"When you rotate the device [while using Boom], it changes the direction of the audio that's coming at you essentially," Microsoft director of brand partnerships Amy Sorokas explained. "So just like you would turn your head if you were looking around at an AR experience and see different things, you hear different things."
The app allows users to select a location — Bushwick or Ithaca — before embarking on their aural journey. "It was very, very important to me to make sure the sound instantly evoked the atmosphere," Casey said. In the Bushwick soundscape, users can hear "jangling jackhammers" and honking horns, while Ithaca will come with a gentler set of sounds. "There's a certain type of cricket [in Ithaca] that is so evocative of warm summer evenings lying out on the grass here," he explained. "[It] just instantly took me away."
Watch Casey and Sam discuss the Boom app below.
Chat About X Ambassadors Create Audio-Only 'Boom' Video For The Visually Impaired