Tristan Thompson's Trying To Win Khloe Kardashian Back With Drake's Help
By Peyton Blakemore
September 5, 2019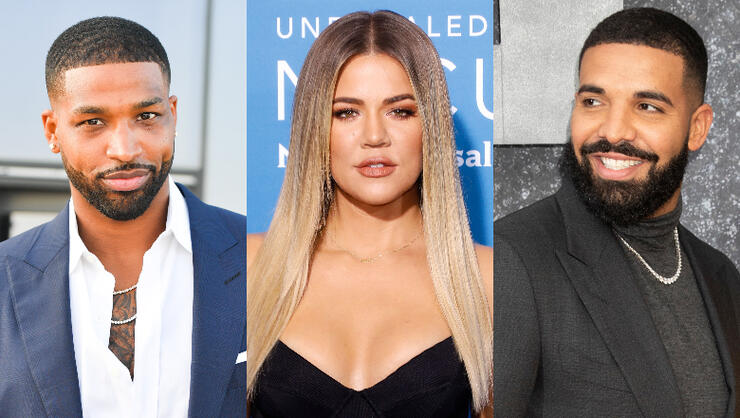 A for effort, Tristan!
According to The Sun, Khloe Kardashian's infamous ex Tristan Thompson is trying to win her back and he's pulling out all the stops to make it happen! After boldly cheating on Khloe multiple times — he shared a kiss with Kylie Jenner's ex-bestie Jordyn Woods at a party earlier this year and he hooked up with numerous women while Khloe was pregnant with their first child last year — Tristan reportedly turned to the Drizzy Drake for some advice on how to win his family back.
"Tristan is good pals with Drake and has been using him as a sounding board as he plots his return to the Kardashian fold," a source told the British outlet. "Drake told him to pull out all the stops if he wanted to win Khloe back."
The NBA player's "power move" allegedly came in the form of a $400,000 Porsche 911, which he allegedly gifted Khloe. The insider additionally claimed that the extravagant gift earned Tristan an invite from Khloe to her mansion for a Taco Tuesday dinner. "An invite to a casual dinner might not sound like a reasonable trade-off for a sleek supercar. But after what Tristan did, he can't expect Khloe to roll out the red carpet for him," said the source.
While it's uncertain if Khloe did, in fact, grant Tristan a Taco Tuesday at her place, one might say it wouldn't be a complete shock if Khloe was down to give Tristan another chance given her forgiving nature and the fact that they share a 17-month-old child. Back in July, the Keeping Up With the Kardashians star made it clear that she's not holding any grudges against her ex after a fan threw shade at the fact that Khloe and Tristan's daughter, True Thompson, looks like her dad.
"I know Khloé hates Tristan but Baby True starting to look just like him," the fan captioned a side-by-side picture of the father and daughter. Khloe, however, wasn't fazed by the shade as she clapped back, "Why would I ever hate anyone who helped create such an angel? People make mistakes but I won't hurt my own healing by holding on to hate. I'm too busy raising my beautiful baby and securing that 💰to hate any individual. Sweet True has always looked like her daddy. She's beautiful!! 🙏🏽."
Photo: Getty Images