Meghan Markle Flying Solo To See Serena Williams Play In The U.S. Open
By Emily Lee
September 6, 2019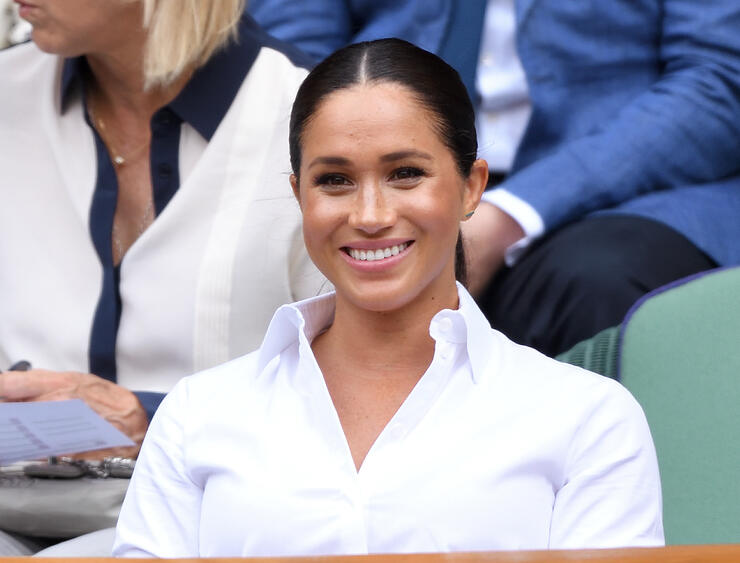 Meghan Markle is stateside!
The Duchess of Sussex reportedly flew to New York City on Friday (September 6) for a very special occasion: watching Serena Williams compete in the US Open. The tennis star will be competing against Canada's Bianca Andreescu in the tournament finals on Saturday (September 7). If she wins, she will have a record-tying 24th Grand Slam singles title. Her royal bestie will be in the audience cheering her on the whole way.
While all the royal watchers would love to see Prince Harry and baby Archie in the stands with Meghan, the Duchess is flying solo for this outing. The Times reports Meghan's decision to attend the US Open was very last minute, so, her hubby will remain at their Windsor home over the weekend and take care of little Archie. Since this is a personal excursion for Meghan, she won't be traveling with any staff. Her security team, however, will be on hand. "It is a last-minute trip," a source told The Times. "Excited to support her friend, and then come back."
According to The Times, Meghan reportedly stayed up until 1:00 a.m. on Thursday (September 5) in order to watch Serena's semifinal match. With an early morning flight to NYC on Friday, hopefully the first thing the Duchess did when she landed stateside was take a long nap. This will be the second time this summer Meghan has attended one of Serena's matches. She attended Wimbledon in London to support her BFF, as well.
For those wondering if Meghan chartered another private jet to fly across the Atlantic, the Duchess flew commercial. Though it's unclear when and how she'll return home, it's expected she'll return via commercial airline on Sunday (September 8).
Photo: Getty
Chat About Meghan Markle Flying Solo To See Serena Williams Play In The U.S. Open