Nick Minaj Apologizes To Fans For 'Abrupt' Retirement Announcement
By Peyton Blakemore
September 6, 2019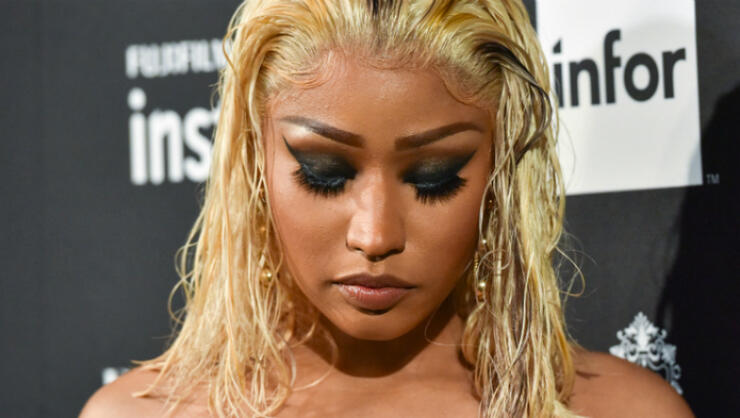 Hours after sending her Barbz into a complete spiral, Nicki Minaj addressed her abrupt retirement announcement.
The 36-year-old rapper returned to Twitter to give more context about her decision to hang up the towel on her rap career after one of her fans expressed their complete heartbreak over her announcement. "@NICKIMINAJ can u please just address this retirement thing," they wrote on Twitter. "You e never left us so hurt your entire career. We're just hurting Nicki :( it's US it's the barbz plz... 😩."
Nicki soon responded with an apology, acknowledging that she made a hasty decision choosing to announce her retirement on Twitter. "I'm still right here. Still madly in love with you guys & you know that," she wrote, adding that "in hindsight" she should have spoken to her fans about her retirement on the radio, however, she plans to do just that in the coming days. "I promise u guys will be happy. No guests, just us talking about everything. The tweet was abrupt & insensitive, I apologize babe ♥️🙏," she shared.
Nicki, who released her fourth studio album in August 2018, later shared a throwback video of her explaining her dream of starting a family and becoming a housewife after she released five albums. "This video always makes me cry chile," she captioned the post.
The "Hot Girl Summer" rapper shocked fans on Twitter Thursday (September 5) when she announced that she's calling it quits on her decade-long music career. "I've decided to retire & have my family," she wrote. "I know you guys are happy now. To my fans, keep reppin me, do it til da death of me, ❌ in the box- cuz ain't nobody checkin me. ✅ Love you for LIFE 😘♥️🦄."
The news came weeks after Nicki hinted that she and her boyfriend Kenneth Petty are married when she changed her Twitter name to "Mrs. Petty" just days after she confirmed that she and Kenneth are set to tie the knot in "about 80 days."
Chat About Nick Minaj Apologizes To Fans For 'Abrupt' Retirement Announcement