Papa Roach Share Touching Fan-Focused Video For 'Come Around'
By Katrina Nattress
September 12, 2019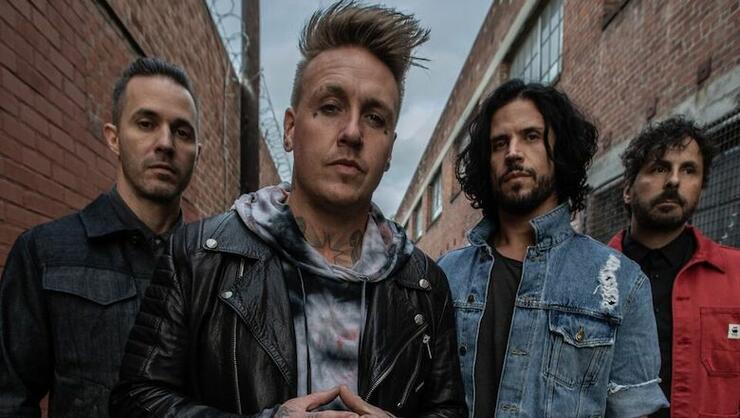 When it was time for Papa Roach to film the video for their single "Come Around," they knew the visuals had to be as special as the song itself. Then they thought of Mark Moreno. The New Yorker has been a fan of Papa Roach since 2000 and had seen them 56 prior to the filming of the video, which marked his 57th concert.
"This music gives me a connection to something bigger than myself. This music connects me with people. This music gives me purpose," vocalist Jacoby Shaddix says to the crowd at the beginning of the clip before brining Moreno on stage. The story then delves into the fan's life story, including tragically losing his sister Elizabeth in 2016 to colon cancer, before ending with the band giving him a special gift at the show: a Platinum Papa Roach plaque dedicated to his sister, and "Por Vida" passes that allow him to attend any Papa Roach concert he wants for free, good for the rest of his life.
"We knew 'Come Around' was one of those special songs when we got done with it. We walked away from the track and kept humming the melody to it, and it's just one of those things that gets stuck in your head," Shaddix said in a press release. "Lyrically, this track's about sticking with your friend through thick and thin, or your loved one, as they're spiraling out."
"Personally, it's my life experience of being on both sides of the song: being the person that needed help, and being the person that has reached out and given somebody help," he continued. "I feel that in those times we can find who we really are."
"Come Around" is featured on the band's latest album Who Do You Trust?. Watch the touching video below.
Papa Roach is gearing up to head out on the Attention! Attention! Tour with Shinedown and Asking Alexandria next week. Check out a full list of tour dates below and get ticket information here.
Attention! Attention! Tour
September 17 – Roanoke, VA – Berglund Center^
September 19 – Bristow, VA – Jiffy Lube Live^
September 20 – Albany, NY – Times Union Center^              
September 21 – Atlantic City, NJ – Mark G Etess Arena*
September 24 – Laval, Canada – Place Bell^
September 25 – Québec, Canada – Videotron Center^
September 27 – Buffalo, NY – KeyBank Center^        
September 28 – University Park, PA – Bryce Jordan Center^
September 29 - Toledo, OH – Huntington Center^          
October 1 - Grand Rapids, MI – Van Andel Arena^
October 2 - La Crosse, WI – La Crosse Center^
October 4 - Evansville, IN – Ford Center Martin Luther King^
October 5 - Springfield, MO – JQH Arena^                           
October 6 - Mankato, MN – Mankato Civic Center^  
October 8 - Bismarck, ND – Bismarck Event Center^
October 9 - Winnipeg, Canada – Bell MTS Place^
October 11 - Edmonton, Canada – Edmonton Convention Centre^
October 12 - Dawson Creek, Canada – Encana Events Centre^
October 13 - Calgary, Canada – Stampede Corral Arena^
October 15 - Penticton, Canada – South Okanagan Events Centre^
October 16 - Abbotsford, Canada – Abbotsford Centre^        
October 18 - Kennewick, WA – Toyota Center^
October 19 - Boise, ID – Taco Bell Arena^
w/ Shinedown, Asking Alexandria & Savage After Midnight^
w/ Shinedown and Asking Alexandria*
Photo: Darren Craig
Chat About Papa Roach Share Touching Fan-Focused Video For 'Come Around'