The Lumineers Spark Epic Sing Along During iHeartRadio Album Release Party
By Katrina Nattress
September 14, 2019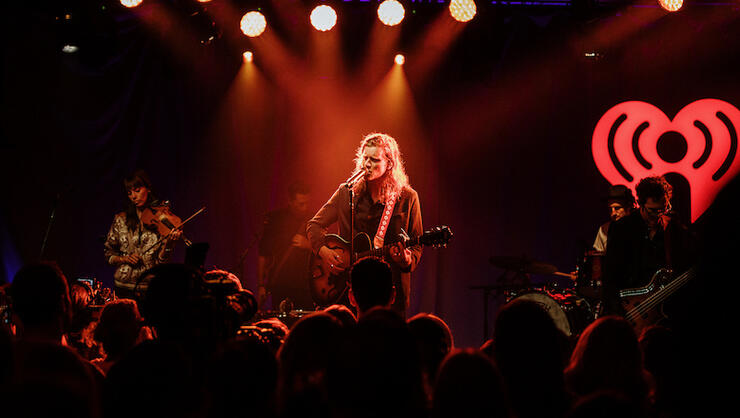 Friday the 13th might be associated with bad luck, but fans of The Lumineers were feeling pretty lucky when they got to celebrate the release of the band's third album III during an intimate party at the iHeartRadio Theater in New York City. The Denver-based group gifted fans with a rousing 14-song set jam-packed with new tunes, along with the hits, and immediately incited an epic sing along.
The folk-rockers didn't waste any time and jumped right into their first performance of the night, 2016's "Cleopatra," before delving into the heavy new album. The 10-song collection, which is split into three chapters, gives a personal look into singer Wesley Schultz' family.
"I was working through something, and it was the best way I knew how to describe what I was feeling and the things I was seeing, and it helped me process it, but I didn't know if it was going to make for a good album," he explained. "It felt a little depressing. Then we made the music, I think we counterbalanced it with some music that sounds more positive. So it has this interesting combination to it."
"I feel like it's our best piece of work," drummer and songwriter Jeremiah Fraites added about the new album.
After playing a couple more oldies but goodies in "Ophelia" and "Ho Hey," The Lumineers jumped into the record's first single, "Gloria."
After performing the seemingly simple song, Fraites divulged that "Gloria" was actually the most difficult to write on the album. The opener "Donna" was the one that came easiest to him and Schultz.
The band then told a story about how they wrote a song for M. Night Shyamalan's most recent movie Glass, only it never made it into the film. As a result, they decided to use it on the album and admit its dark vibe influenced the second half of III. That song is "Salt and the Sea," which made it on their album release party set list.
Later in the show, Schultz revealed how an addict in his family who's now homeless inspired the song "Leader of the Landslide." "If you're going through something like this with someone you love, I'm putting this out to you," he said before playing the song.
After playing a spirited rendition of Tom Petty's "Walls," The Lumineers closed out their set with two more fan favorites: 2016's "Angela" and 2012's "Stubborn Love."
The Lumineers plan to hit the road early next year in support of the new album. Check out a full list of tour dates here and peep the full album release party set list below.
The Lumineers III Album Release Show Set List
Cleopatra
Ophelia
Ho Hey
Gloria
Life in the City
Sleep on the Floor
It Wasn't Easy
Leader of the Landslide
My Cell
Jimmy Sparks
Salt and the Sea
Walls
Angela
Stubborn Love
Photo: Rachel Kaplan for iHeartRadio
Chat About The Lumineers Spark Epic Sing Along During iHeartRadio Album Release Party