Yung Miami Strips Down For Sexy Pregnancy Photo Shoot
By Peyton Blakemore
September 17, 2019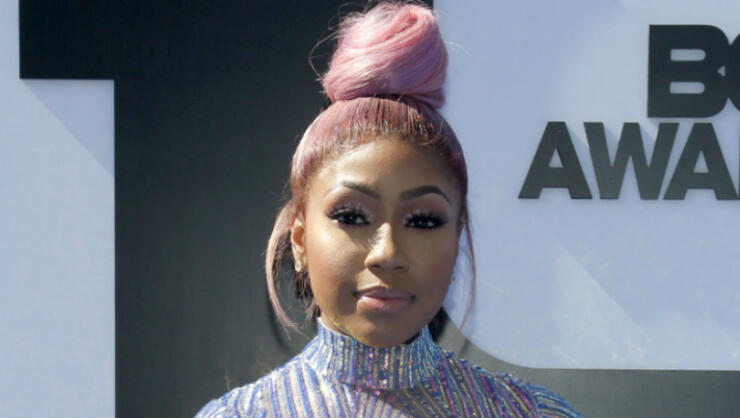 Yung Miami's pregnancy photo shoot was both sexy and angelic.
On Monday (September 16), the 25-year-old rapper — who's expecting her second child, first with boyfriend Southside — shared images from her tropical shoot, which featured her in three different looks.
For Young Miami's first look, the "Twerk" rapper was fully nude with only her long locks hiding her breasts as she wore nothing but feathered angel wings. "Gift From God. My Angel. My Princess. I can't wait to meet you ❤️," she captioned the first set of photos on Instagram. For her next look, the expecting mom wore only a sheer pink cloth that cascaded over her stomach and inner thigh as she held it over her chest. "Summer Miami 🌸," she captioned the post.
And for her last look, Yung Miami wore sexy blush lingerie as she made a heart with her hands over her stomach. "8 Months 💕," she wrote.
As fans know, Yung Miami revealed she was expecting in June. "I've been going back and forth to share this moment with my fans. But on MY TERMS! I want this journey to be nothing but positive going forward and I wanted to share this with y'all," she wrote on Instagram. "No one knows what is best for me but GOD, and this was just his timing for me. Everybody doubted me and said I shouldn't be rapping and that I wouldn't be able to hold the group down while JT was away but I did just that and then some, to the point that you all have made this experience as an rapper so fulfilling that I cannot wait to show more of what I really have in store for my fans. I did everything they said I couldn't because that's just the type of woman I am and going to continue to be."
"Pregnancy is a beautiful thing and life changing, so I cannot wait to see what the future has in store for the City Girls!" the rapper continued. "And for the record JT has nothing to do with me being pregnant she is so supportive and can't wait for our newest addition! This is my personal life and it is what it is! PERIOD -Yung Miami."
Photo: Getty Images