Thomas Rhett Sings 'To The Guys That Date My Girls' To Daughter On Stage
By Blake Taylor
September 19, 2019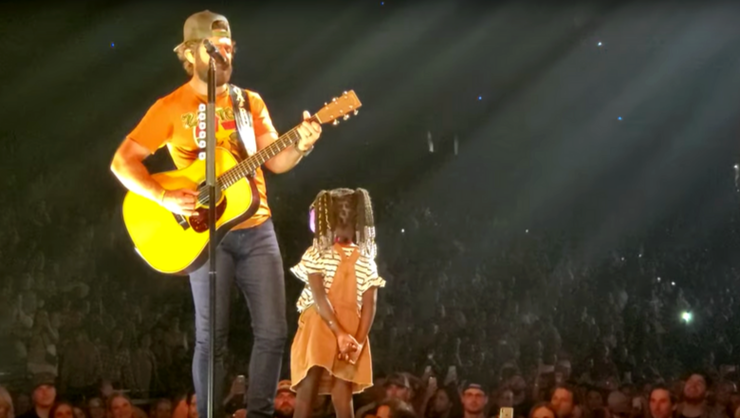 Thomas Rhett recently started performing his unreleased track, "To The Guys That Date My Girls" during various stops on his "Very Hot Summer Tour." The song immediately received a positive response from country fans in the audience and has since spread all over social media thanks to live videos shared.
Recently, Rhett brought the unreleased track to Kansas City's Sprint Center stage on Thursday night (September 12). Differing from previous performances of the song, this time Rhett had his daughter, Willa Gray, by his side.
"I wrote this song a couple weeks ago with my daddy," Rhett shares to the crowd. "And I wrote it about this one right here."
Rhett looked to his wife Lauren at the side of the stage to ask where his other daughter Ada James was. Turns out the two-year-old needed some rest, and had to miss out on the moment. Rhett continues on, "But I wrote this song about them. It's really the most personal song I've ever written about Willa Gray and Ada James."
The moment Rhett shared the name of the song, the crowd went absolutely wild. It's clear quite a few of them had heard the unreleased track before and were huge fans. Rhett then started strumming his guitar, diving into the heartfelt song to his girls.
"I know they won't be young forever / But I'm gonna hold on as long as I can / When you take their hand remember you're holding my whole world / Just a friendly reminder to the guys that date my girls," Rhett sings in the chorus.
A few nights later, Rhett performed the song again for the large sold-out crowd packed in Chicago's United Center. Once again, the Rhett had everyone's full attention while performing this track.
There's no word yet on if and when the country star will release "To The Guys That Date My Girls" officially. However, based on the positive response from fans, I'd expect this track to be recorded at some point soon.
Rhett will most likely continue to periodically bring this future hit song to the stage with him as he wraps up his current tour. The "Very Hot Summer Tour" will conclude in Nashville on October 12.