Embarrassing Wedding Photo Optical Illusion Makes Bride's Booty Look Giant
By Dave Basner
September 20, 2019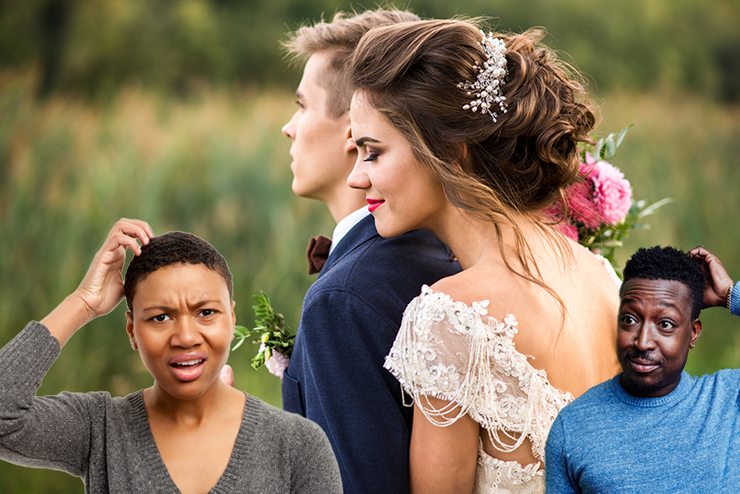 Wedding photos are incredibly important to the bride and groom - many couples reflect upon them and remember that momentous day in their lives when they said "I do." Occasionally, a shot gets ruined by someone photobombing or moving too quickly or other reasons, but what is causing one wedding pic to go viral is the optical illusion on it that was created by an unfortunate angle.
Andre Burnett from Jamaica shared the photo on Twitter to mark his anniversary. It shows him and his wife exchanging their vows, and his caption pokes fun at how Caribbean weddings are usually late to start. He wrote, "That one time when a Jamaican wedding started on time." However, the majority of the comments were about the shape of his bride.
Because a woman bending over in front of the bride is wearing a color similar to the one Burnett's wife is wearing, it makes it look like the bride has a really big booty.
It took me a good minute to figure out that someone is bent over beside your wife lol

— Mello_G❣👸 (@Mello_Mel27) September 16, 2019
it took me a few seconds to realise there are TWO women in this photo....

— the artist formerly known as monkeybrief 🇯🇲 (@mnkybrf) September 16, 2019
That ass,,,, hold the phone...that ain't hers😂😂😂😂😂.

— Lord Farquaad (@UNCUJAY) September 17, 2019
This camera person had me well confused. Timing on this shot tho lol

— An-D (@andy30lounge) September 16, 2019
If that's not perfect timing I don't know what is

— Mark-Anthony March (@maddmarch) September 16, 2019
Others took the opportunity to drag Andre for the low turnout to his nuptials.
LOL. They started without the guests!! Perfect!

— Ambrosia™ - 🇯🇲 Licorne Sauvage (@ambrosia_omG) September 16, 2019
If you know weddings then you know those chairs are expensive and they just wasted money on them

— IceBerg Slim (@Sofaking_Fresh) September 17, 2019
This photo said "come late if you want to. We staring with or without you."

— Big Fella♌ (@MelaninStarbomb) September 16, 2019
Andre responded, joking that 70 people turned up to the wedding late, all with legitimate excuses. Regardless of what went down at the wedding, they seem to be living happily ever after!
Photo: Getty Images
Chat About Embarrassing Wedding Photo Optical Illusion Makes Bride's Booty Look Giant