Tekashi 6ix9ine Testifies Cardi B & Jim Jones Are Nine Trey Bloods Members
By Regina Star
September 20, 2019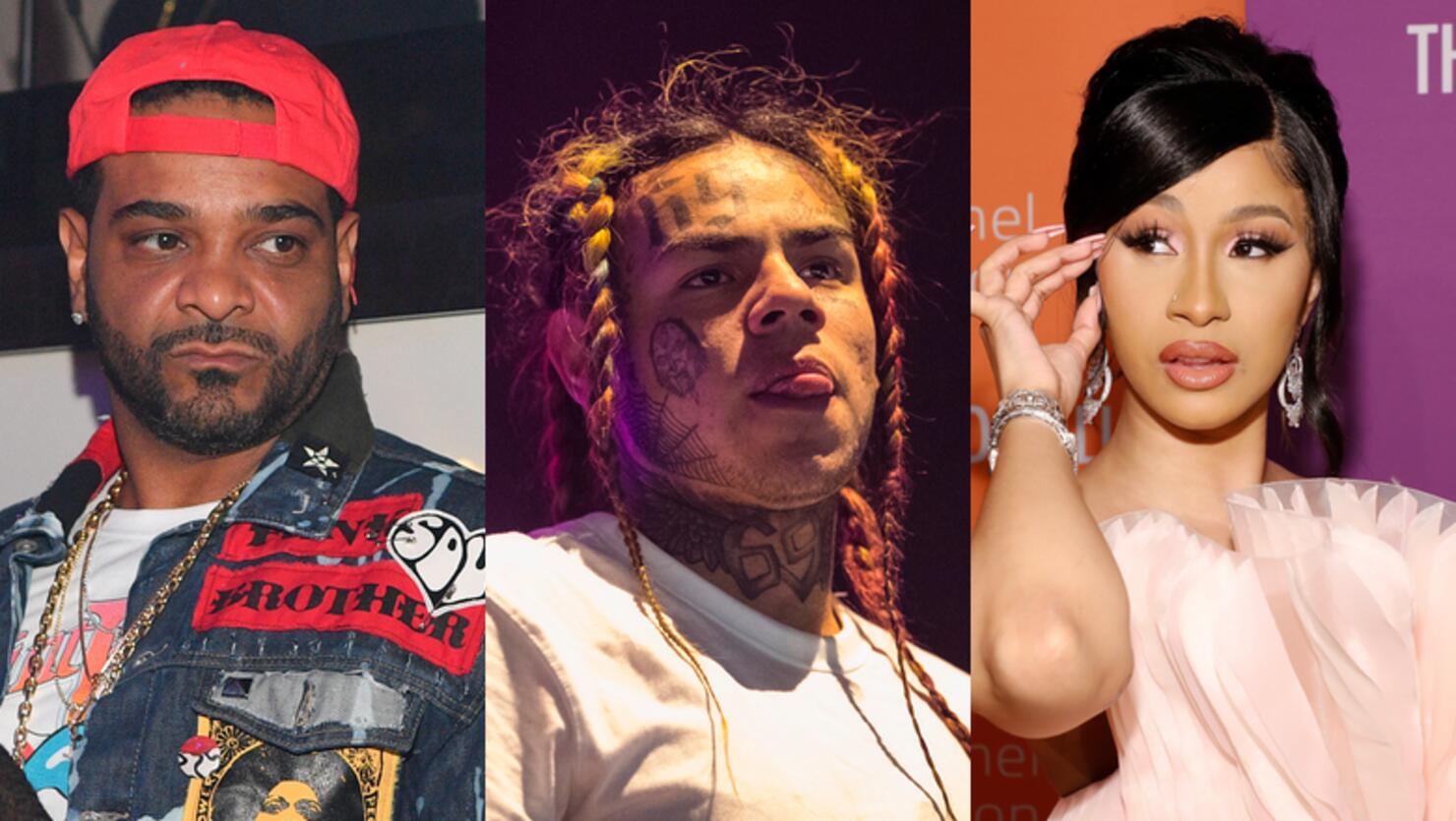 Tekashi 6ix9ine proceeds to drag even bigger names into the courtroom. The "Gummo" rapper's trial progressed on Thursday (September 19) with even more shocking allegations, this time involving fellow lyricists Cardi B and Jim Jones.
As previously reported during his first day of questioning, Tekashi let it slip that rap rival Trippie Redd "was part of Five Nine Brims." Continuing to throw everyone under the bus, the 23-year-old has now name-dropped both Cardi and Jones in his messy trial, alleging the two New York rappers are also gang members, specifically of the Nine Trey Gangsta Bloods.
According to Inner City Press, when asked if the "We Fly High" star was Nine Trey, Tekashi confirmed that Jones, whom he called "a retired rapper, was a member of the crew. Following his admission, the prosecutor then played a recorded phone conversation from November 2018 between Jones and Nine Trey godfather Mel Murda, in which Jones says of the "Fefe" musician: "He not a gang member no more. He was never a gang member. They going to have to violate shorty because shorty is on some bulls--t."
Additionally, while testifying on the witness stand against his alleged abductors, Anthony Ellison and Aljermiah Mack, Tekashi also snitched on the "Be Careful" artist as being Nine Trey, according to Page Six. During a cross-examination, the "Kooda" performer was asked, "You knew Cardi B was a Blood?" to which he replied, "Correct."
"You know Cardi B made music videos with Bloods in the background?" Mack's attorney continued, as he answered: "Yes. I knew who she was. I didn't pay attention."
In a since-deleted tweet, Cardi seemingly confirmed her gang relation — though not with the set Tekashi claimed: "You just said it yourself… Brin not 9 Trey. I never been 9 Trey or associated with them."
Tekashi is facing 47 years to life on gun and racketeering charges, though could walk free on time served for his cooperation as a government witness during the trial.
Photo: Getty Images