2019 iHeartRadio Music Fest Night 2: Miley Cyrus, Chance The Rapper & More
By iHeartRadio Staff
September 22, 2019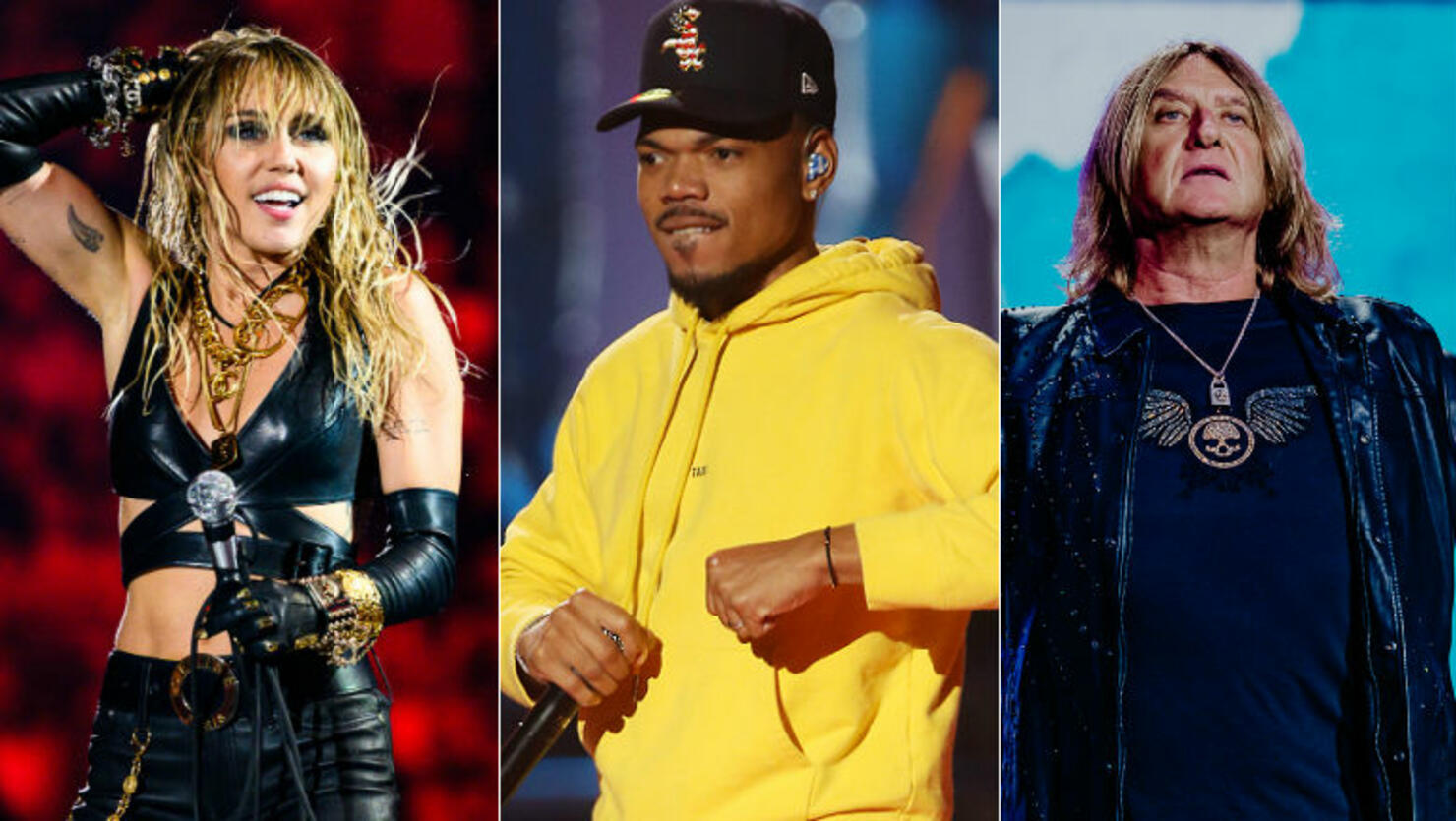 2019 iHeartRadio Music Festival brought the heat for Night 2 of the two-day affair with featured performances from the likes of Miley Cyrus, Def Leppard, Chance The Rapper and more. Stars from all genres came together at Sin City's T-Mobile Arena for the big night, treating viewers to a batch of cover tracks and even some special guests. If you missed out on the action, iHeartRadio has you covered with a list of all of the biggest moments from the Saturday night (September 21) showing. Scroll on below to see all of the show-stopping moments from the music affair.
Miley Cyrus Covers Rock Icons Led Zeppelin & Pink Floyd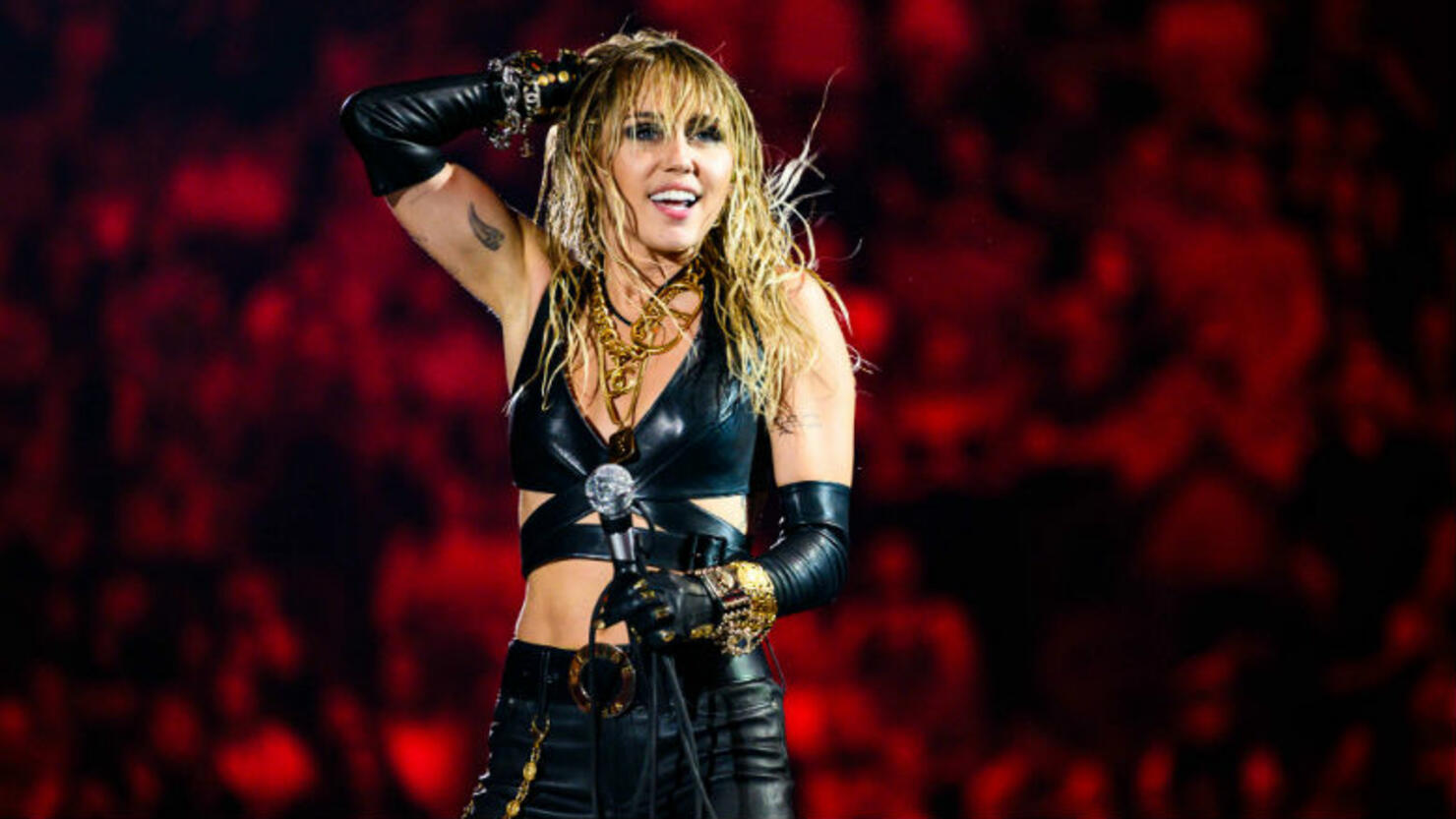 Photo: Todd Owyoung for iHeartRadio
Miley Cyrus rocked the stage in more ways than one. The singer/songwriter opened the second night of the festival on Saturday and not only performed a few of her new songs, but also covered some rock music legends. Dressed in leather pants, over-the-knee leather boots, leather crop top, chunky gold necklaces and leather gloves (with nails on them), Cyrus kicked off her performance with her Mark Ronson, "Nothing Breaks Like A Heart." Then, she performed one of her newer songs from her latest EP, She Is Coming, "Mother's Daughter" and continued to rock on by covering Led Zeppelin's "Black Dog."
"Your job as a parent is to keep your kid alive, and the way that they did was by keeping us happy, and that was keeping the jukebox on 24/7," she told the audience. "Whether it was listening to Stevie Nicks or Johnny Cash, my dad thought it was really important that I had more females than males in my jukebox. And I guess that's why I'm sending you right now feeling really powerful, and I hope everyone else out there feels that same amount of power. There's a lot to be done and we don't have our whole lives to do it. We have to start right now. But you know, I think this show gives me freedom to get to sing the songs by the artists that are the reason why I'm on this stage right now. They influenced me and they reminded me that it was bigger than music. It was connecting to people like you. And getting to be in front of people like you is the dream. It's the only thing that I'm made to do. So thank you for giving me a stage to stand on. [I] couldn't do it without you. And you know what? I sing songs like 'Can't Stop' for you, but then I sing a couple of songs for me, and this is 'Comfortably Numb' by Pink Floyd."
Marshmello & Kane Brown Bring Their Bromance To Night 2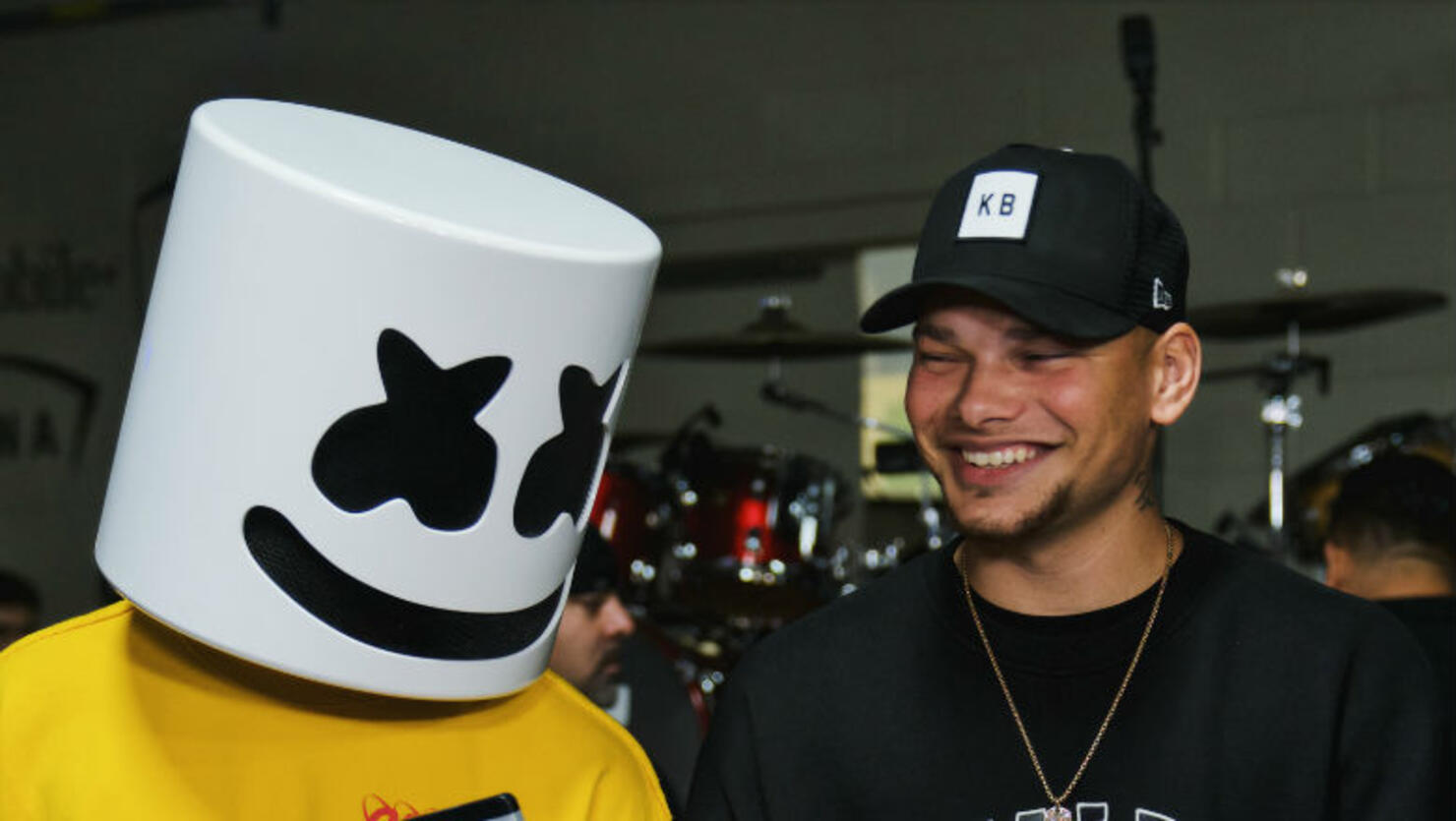 Photo: Marc Inocencio for iHeartRadio
Nothing screams bromance like two men supporting an agenda to be openly emotive about faults and that's what Marshmello and Kane Brown did during their Saturday night set.
As part of the closing set at Las Vegas' T-Mobile Arena, the EDM heavyweight, 27, and country singer, 25, delivered a sentimental performance of their new collab, "One Thing Right," a mid-tempo tune where the latter admits his many mistakes and how they've helped him appreciate his wife, Katelyn Jae, who is currently pregnant with the couple's first child. While Marshmello played guitar backing, Brown put his heart on the sleeve, singing, "I've been at the wrong place at the wrong time/ Chasin' all the wrong things most of my life/ Been every kinda lost that you can't find/ But I got one thing right/ Been the kinda guy girls mamas don't like/ Runnin' with the wrong crowd on the wrong nights/ 'Cause I've been wrong about a million times/ But I got one thing right, you."
Zac Brown Band Covers A Rage Against The Machine Classic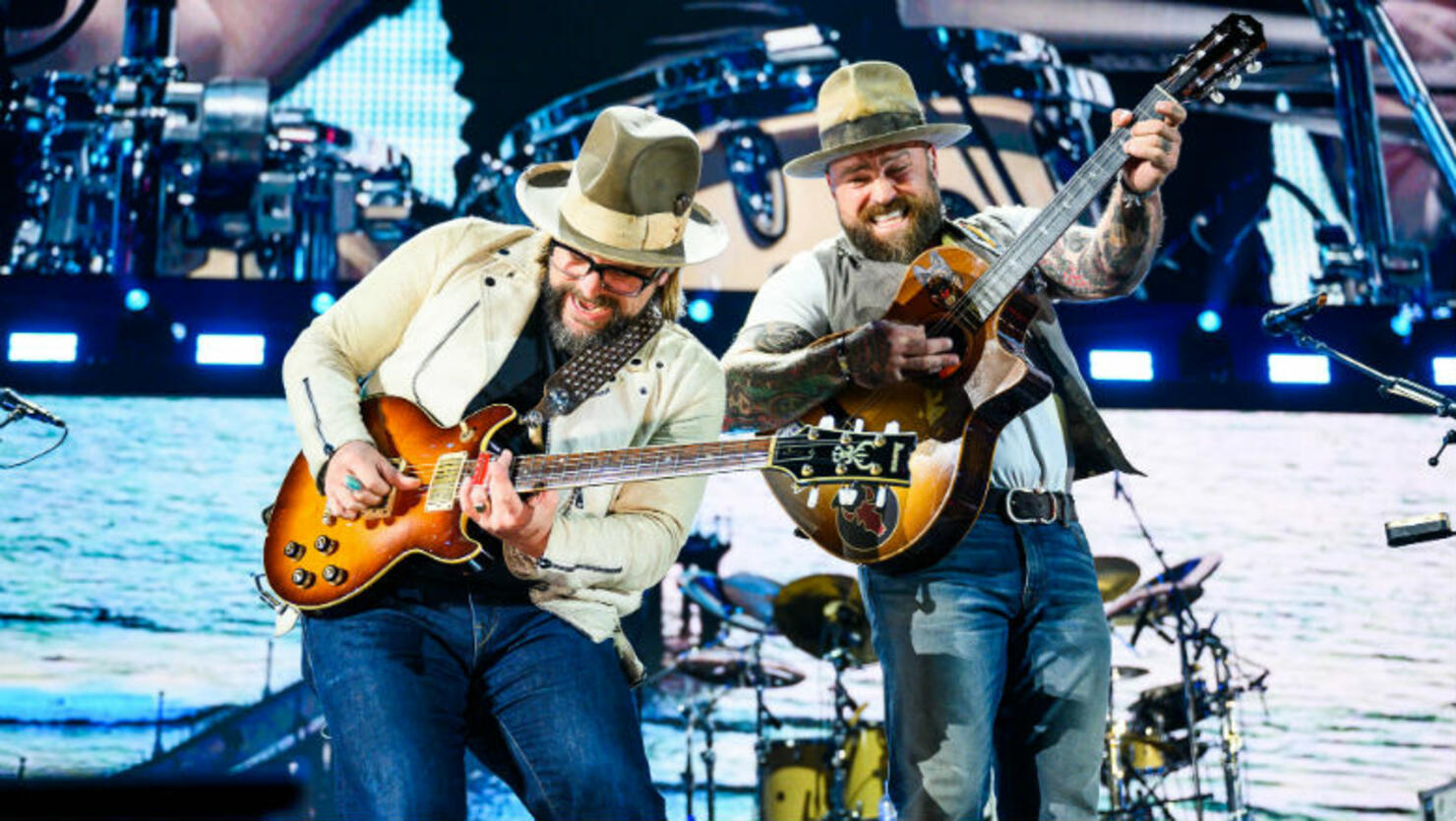 Photo: Todd Owyoung for iHeartRadio
Zac Brown Band not only released their brand new album, The Owl, this weekend, they also performed some of their new music live for the first time on Saturday, in addition to some fan favorites and a rockin' Rage Against the Machine cover. The band kicked off their set with "Homegrown" from 2015's Jekyll + Hyde, followed by their new pop-influenced single "Someone I Used To Know" from The Owl. Then, after "Colder Weather" (appropriate now that it's officially about to be fall), the band performed a cover of Eagles' 1975 hit "Take It To The Limit."
Next, the guys shared more of their new album live by performing "The Woods" followed by a Zac Brown Band staple and fan favorite: 2008's "Chicken Fried." Naturally, the entire arena broke out into a gigantic sing-along. To close out their set on the iHeartRadio Music Festival stage, frontman Zac Brown hopped on the electric guitar while fiddle player Jimmy De Martini took on vocal duty to perform a cover of Rage Against The Machine's "Bulls On Parade."
Chance The Rapper Takes The Crowd To Church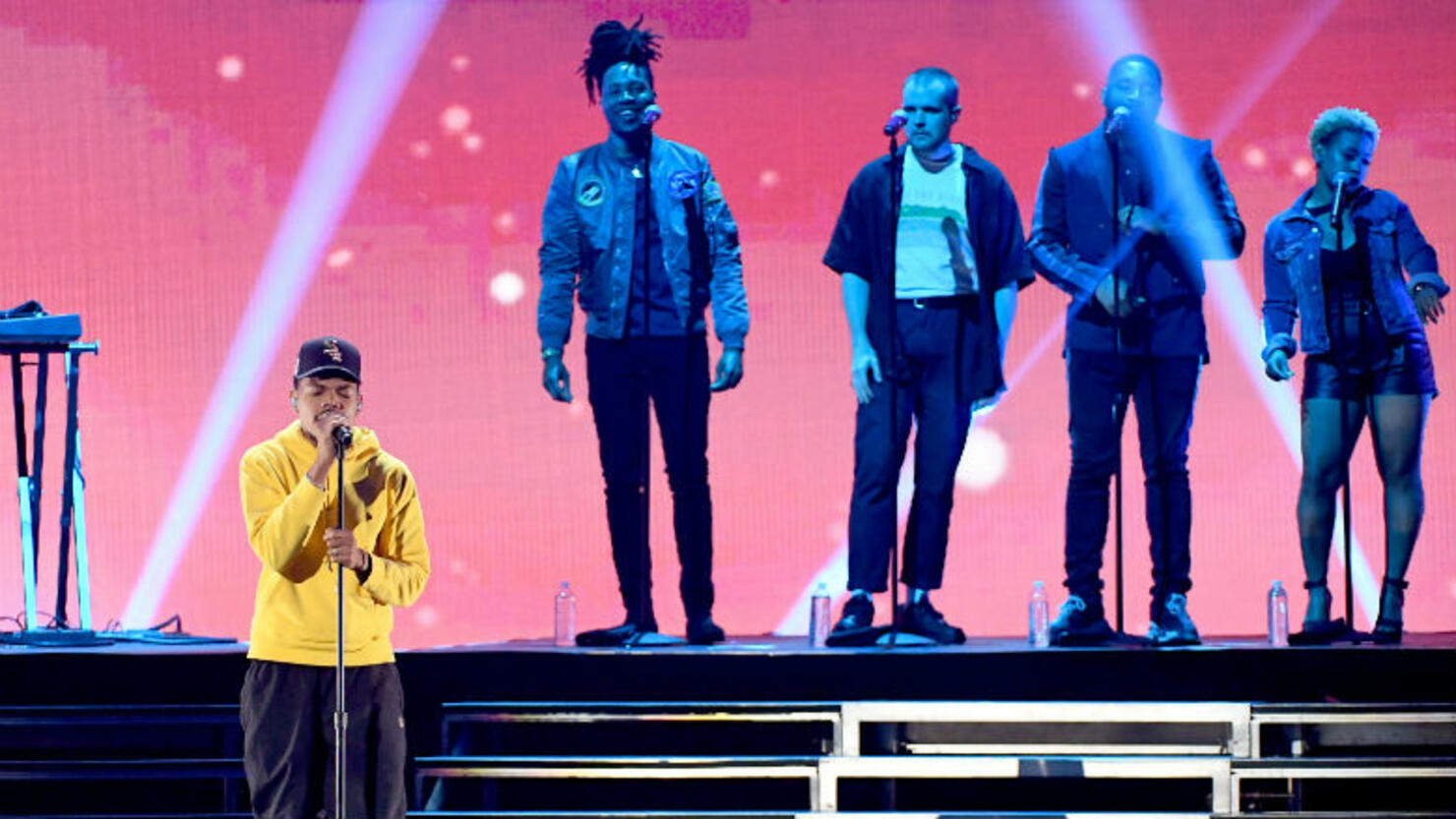 Photo: Getty Images
Chance the Rapper lit up the 2019 iHeartRadio Music Festival stage.
The 26-year-old rapper had the crowd mesmerized as he performed a number of his hits, including "No Problem," "Blessings 1," and one of his newest tracks, "Do You Remember," which is off his recently released debut album The Big Day.
After getting the audience to sing the words to nearly all of his songs — in many ways taking them to church with his uplifting lyrics — Chance performed his latest single "Hot Shower." For the high-energy track, the "Slide Around" rapper pulled out all the stops, bringing out break dancers and acrobats to bring the track to life with flips and wild dance moves.
Chance ended his set with a somewhat next level moment, getting the entire crowd to sing "are you ready for your miracle?" — the lyrics to "Blessings 2" — while also getting them to direct their attention up above.
Alicia Keys Duets With Lewis Capaldi On "Someone You Loved"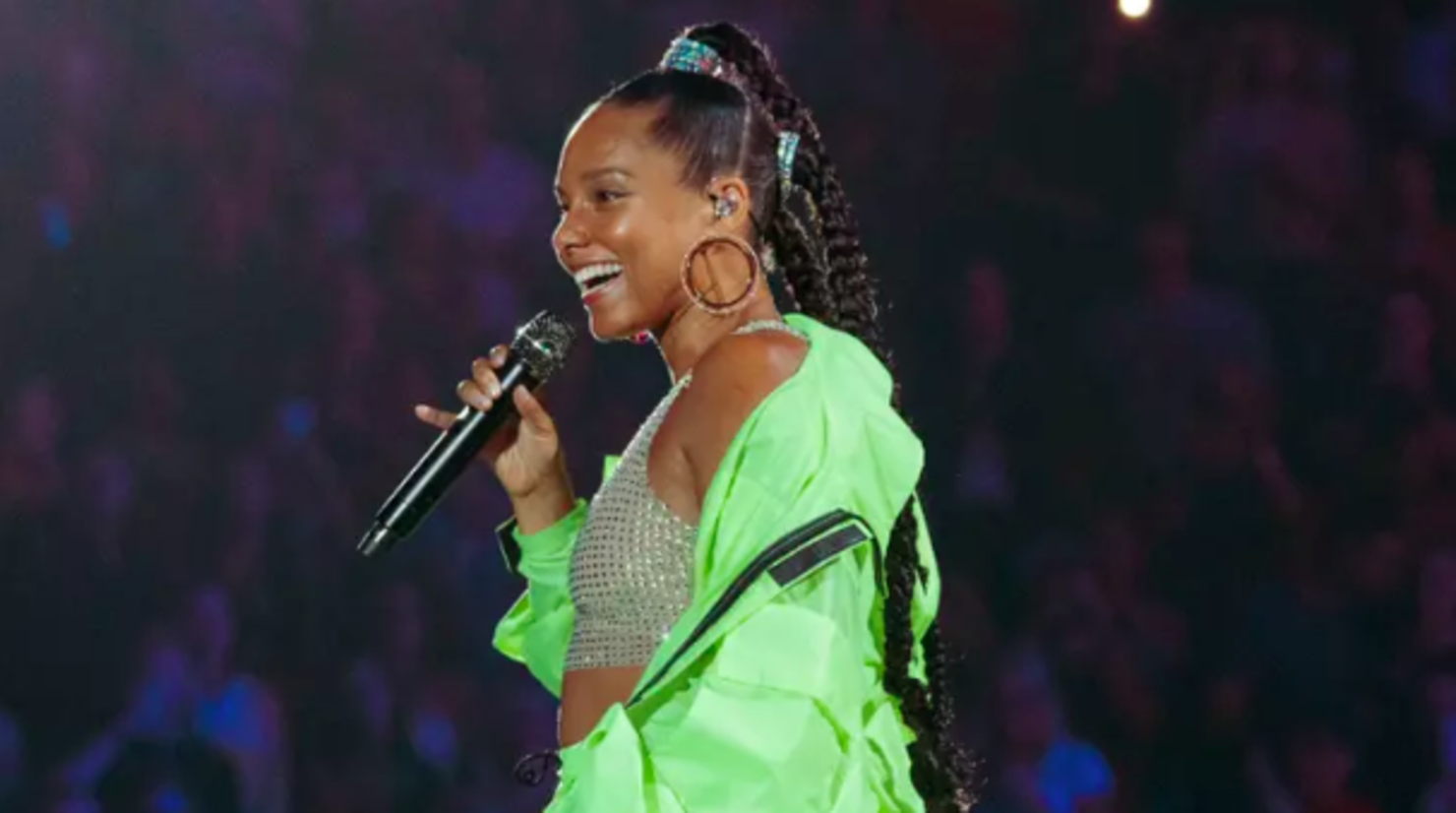 Photo: Getty Images
Alicia Keys brought her catalog of hits to iHeartRadio Music Festival. The legendary entertainer, who was dressed in a show-stopping neon green tracksuit with a gray bedazzled bra, kicked things off by throwing it back to 2012, performing her mega-hit "Girl On Fire." She then slowed things down with her 2009 single "Sleeping With A Broken Heart."
"Show Me Love," Alicia's latest single, was next on the setlist. While the track features Miguel, for her Saturday set, Alicia filled in the R&B singer's parts by mixing in Post Malone's "Congratulations." The songstress followed-up the light-hearted performance with a surprise duet with Lewis Capaldi singing his new hit "Someone You Loved."
Def Leppard Caused Hysteria With Miley Cyrus In Attendance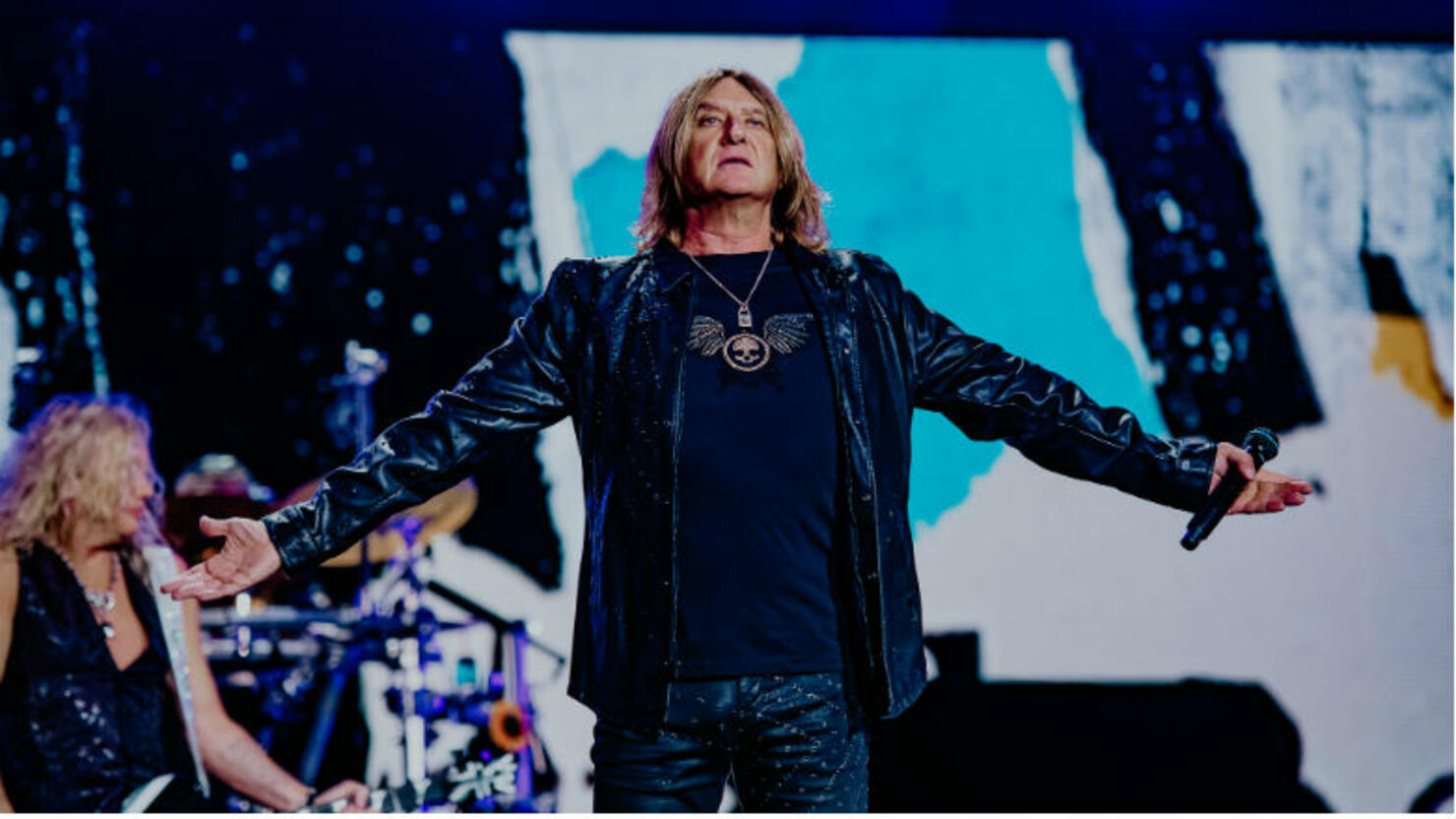 Photo: Jenn Devereaux for iHeartRadio
Def Leppard took the stage at the iHeartRadio Music Festival and within seconds, the thousands of people who filled the T-Mobile Arena in Las Vegas were on their feet and screaming.
The band kicked off their epic set with "Promises," a song with the opening line "Last night I was blown away," something that tomorrow, everyone who went to the festival will be saying to friends about Def Leppard's performance. The energy went up another notch when Lep transitioned into their 1987 hit, "Animal." Singer Joe Elliott's voice was spot-on, Phil Collen and Vivian Campbell were looking healthy and playing the best of guitars of their career, Rick Savage was expertly slapping his bass and Rick Allen was a monster as always behind the kit. All of it had the crowd feeling hysteria, which just happened to be the next song the group played.
Before the fourth track, Joe went to the front of the stage and announced, "This next song is dedicated to the memory of Eddie Money and Ric Ocasek." They did their late peers proud with a rousing rendition of "Armageddon It." The band wrapped things up with "Pour Some Sugar On Me," but before it, Joe said, "We dedicate this next song to Miley Cyrus," something that thrilled the pop star, who was watching their performance from the audience.
H.E.R. Plays Every Single Instrument To Close Out The Daytime Stage (And Then Returns For Night 2)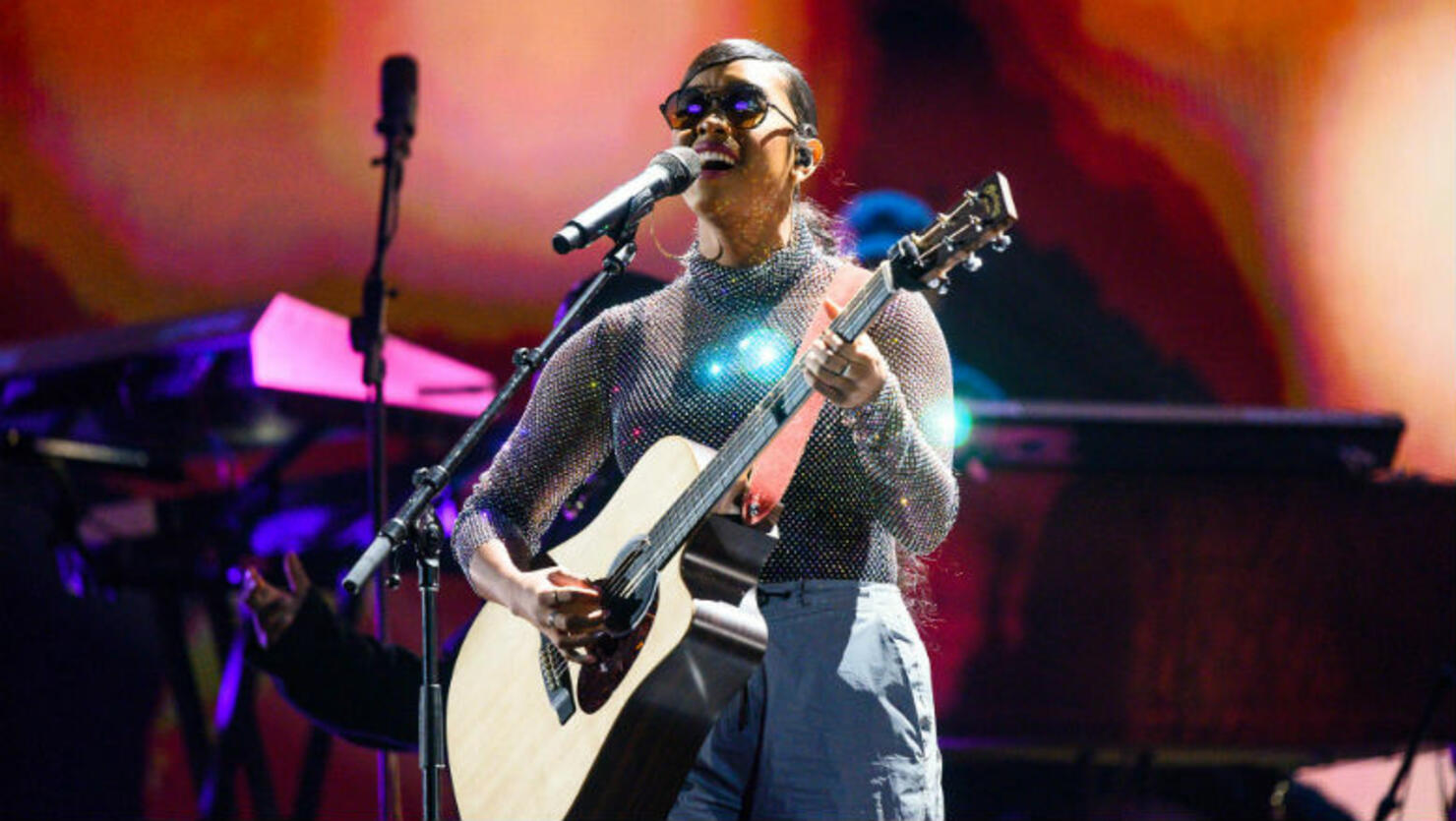 Photo: Todd Owyoung for iHeartRadio
H.E.R. put all of her talents on display to close out iHeartRadio Daytime Stage. Wearing her signature sunglasses and an oversized Prince graphic tee, the 22-year-old singer hit the stage carrying an acoustic guitar to play "Carried Away" in Las Vegas Saturday (September 21). While performing the track, H.E.R. managed to play two additional instruments, taking a break from the guitar to show off her bass-playing skills on a five-string bass before hitting the keyboard.
Next up, H.E.R. performed her fan-favorite track, "Best Part," and then her beloved single "Fate." To wrap up her instrument-filled set, the talented songstress brought out an electric guitar to play her instant classic, "Hard Place."
Later in the day, H.E.R. hit the iHeartRadio Music Festival stage at T-Mobile Arena in a sparkly bodysuit and grey pants to perform a few more hits, including "Keep Holding On." She was also joined by a full choir to perform her last song of the evening, Ed Sheeran's "Make It Rain."
Mumford & Sons Received A Load Of New Fans On Night 2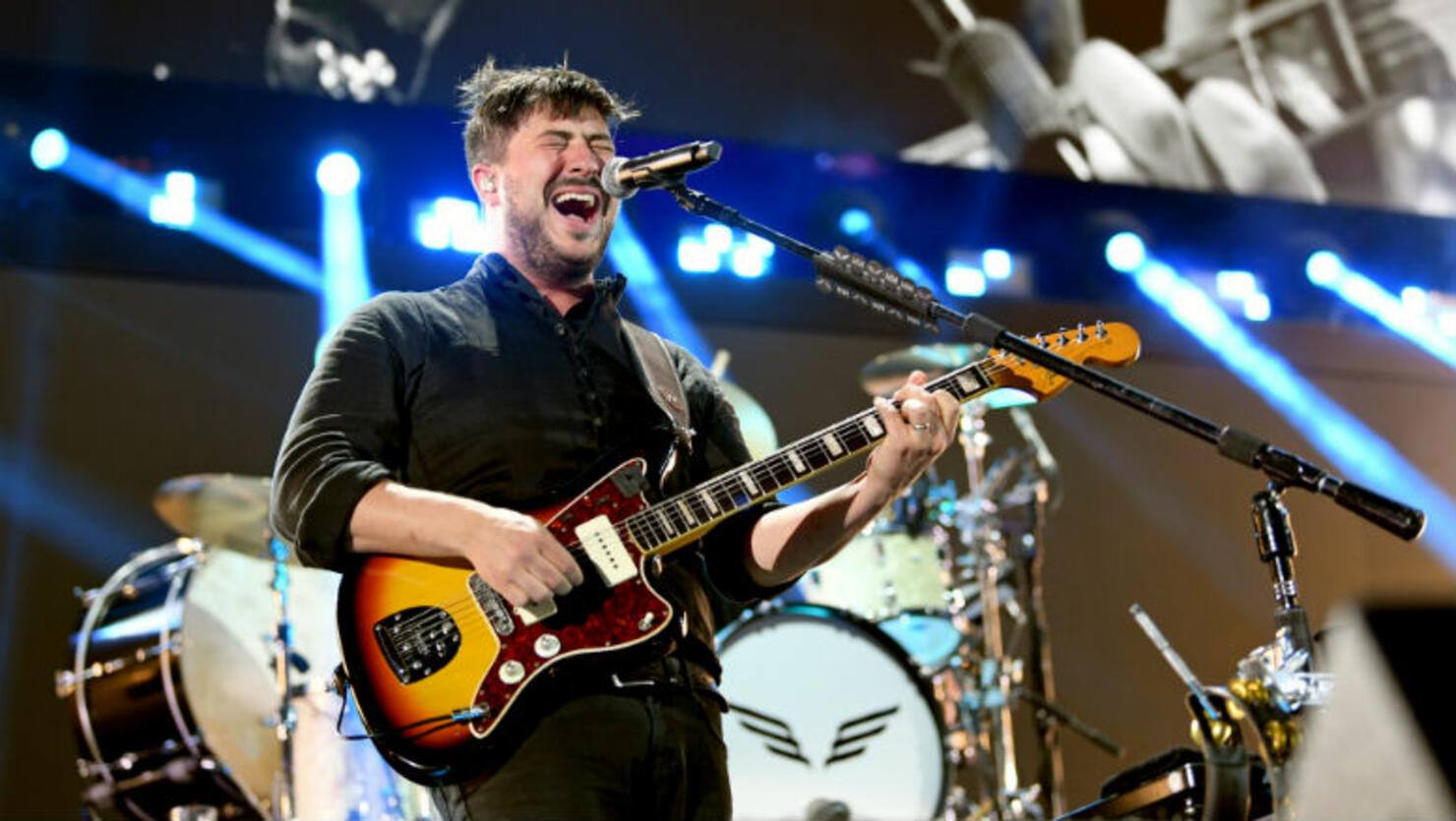 Photo: Todd Owyoung for iHeartRadio
During Mumford & Sons' set at the iHeartRadio Music Festival, they said the event boasted the "most eclectic lineup of musicians" and they "never thought [they] would be lucky enough to share a line-up with." Not only we're they on the bill with the likes of Miley Cyrus, Def Leppard, Chance The Rapper and Marshmello, but with their incredible performance, they turned those artists' fans into their own.
The group, which was nine members strong, kicked off their set with "Guiding Light" off their latest album, Delta, then moved their instruments to the front of the stage's catwalk and played a rousing rendition of "The Cave." Next, they transitioned into a new song called "Blind Leading The Blind." Hardcore fans know the group has been playing the track live for a few years, but it was new to the new fans, and for everyone in the venue, it marked another killer performance. Next up was Mumford's biggest hit, "I Will Wait," and it brought the house down. They closed out with "The Wolf," and by the time the band left the stage, they had thousands of new fans.
T-Pain Revisits His Many Hits In Two-Part Medley Performance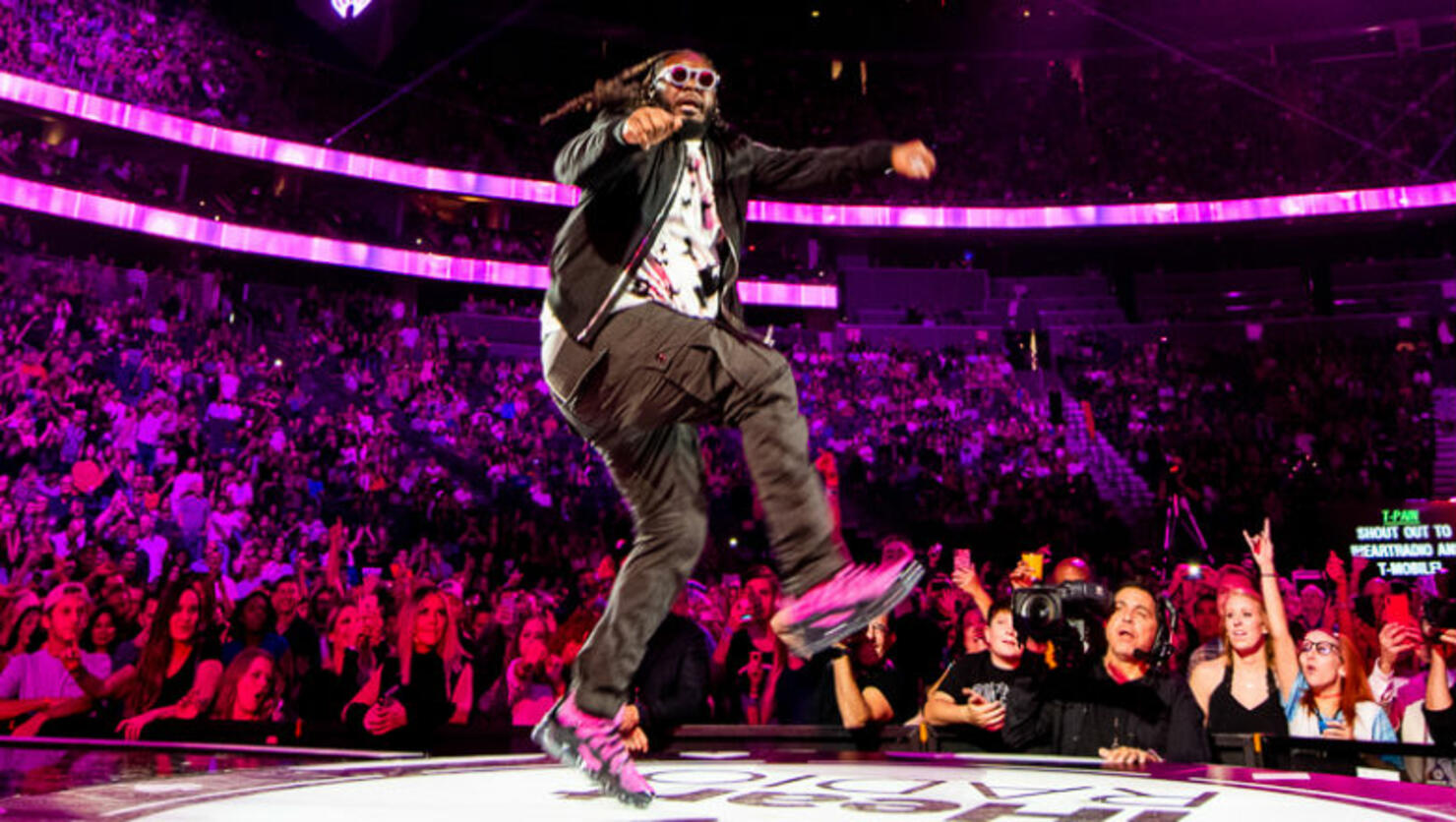 Photo: Jenn Devereaux for iHeartRadio
You simply cannot deny T-Pain's catalogue. From solo classics like "Buy U A Drank" and "Bartender" to his star-studded teams ups like "Low" (Flo Rida) and "All I Do Is Win" (DJ Khaled), the King of Auto-Tune delivered two medley of his hip-hop bangers, as he bounced around the stage and even offered the crowd the Moonwalk at one point during his T-Mobile Magenta Moments.
If you missed any part of the weekend, we've got you covered. Fans can re-live all of the epic performances and collaborations by tuning in to a televised special on The CW Network at 8 p.m. ET/PT on October 2nd and 3rd. And leading up to the official television special, The CW will also air an hour-long Best Of Special on Sunday, September 29th at 8 p.m. ET/PT taking a look back on all of the most iconic moments from the festival in its nine year history.