Kelly Clarkson Shows Love To Carrie Underwood With 'Before He Cheats' Cover
By Hayden Brooks
October 2, 2019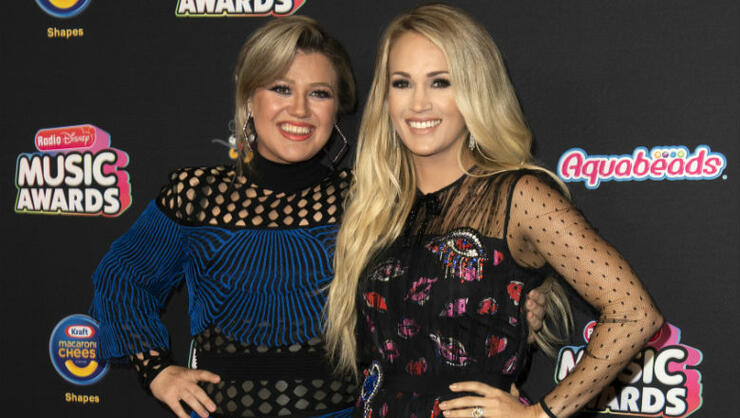 Kelly Clarkson bridged the American Idol worlds on the Wednesday (October 2) episode of The Kelly Clarkson Show with a cover of Carrie Underwood's "Before He Cheats" for her "Kellyoke" segment.
As she does every show, the chart-topper, 37, belted out the cover of Underwood's 2006 smash during her entrance and the hit had all of her audience singing along. Clarkson tried to interpret the song as her own with some belting notes and an impressive falsetto at the end of the rendition, but the fiery nature of the song still remained its best asset. "Before He Cheats" joins a list of country hits that Clarkson has covered since jumpstarting the show, including Kelsea Ballerini's "Miss Me More" and Dolly Parton's "9 to 5."
Despite shutting down rumors of a feud, some media outlets still haven't let go of the narrative between Clarkson and Underwood. Earlier this year, Clarkson took to Twitter to poke fun at the feud and Star magazine's coverage on the "rivalry." In April, The Voice judge took to the platform to share a photo of the mag's cover, which featured a story about how both of the stars have been "trashing each other to friends." "Someone just sent me this & I'm like why does she get the good pic & I have the worst expression I've ever made w/zero muscles being used in my face ha!" Clarkson joked to her 12.3 million followers. "I officially have a feud w/whoever used this pic! At least give me a good pic if y'all are gonna be lying is all I'm sayin'"
Clarkson went on to entertain one user, who explained that the reason Underwood didn't get a bad photo is because there is no bad photo of Underwood. "Hahaha touché," she replied. "Well, I have PLENTY of rough ones ha! But I guess it builds character and keeps me humble. This is what I tell myself."
Chat About Kelly Clarkson Shows Love To Carrie Underwood With 'Before He Cheats' Cover