6ix9ine's Testimony Sends Gang Members To Prison, Kidnapper Found Guilty
By Peyton Blakemore
October 3, 2019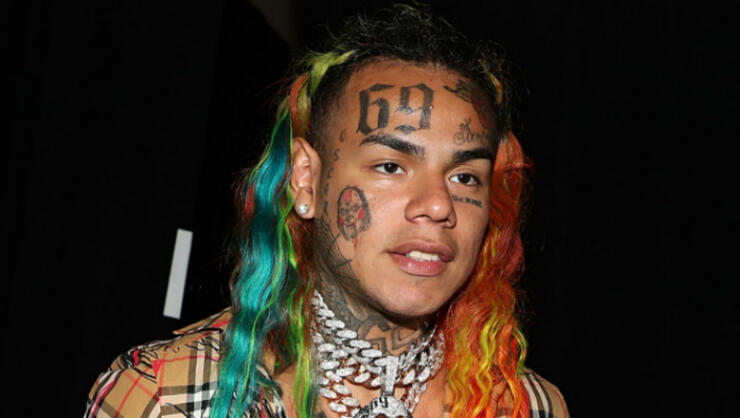 Tekashi 6ix9ine's snitching, at least in part, has led to two of his ex-fellow gang members receiving guilty verdicts.
According to TMZ, a New York City jury found Anthony "Harv" Ellison, who was accused of kidnapping and robbing the 23-year-old rapper back in 2018, guilty of kidnapping in aid of racketeering on Thursday (October 3). Harv was also found guilty of racketeering conspiracy and maiming and assault with a dangerous weapon in aid of racketeering. He, however, was found not guilty of assault with a dangerous weapon in aid of racketeering. While his alleged accomplice, Aljermiah "Nuke" Mack, was found guilty of racketeering conspiracy and narcotics trafficking.
As fans know, 6ix9ine, born Daniel Hernandez, acted as a government witness, testifying against his former gang, the Nine Trey Gangsta Bloods, last month. When the "FEFE" rapper took the stand in a Manhattan federal court, he not only named names, he also revealed his role in the gang, and testified against Harv and Nuke, in regards to their connection to various gang activities, including his alleged kidnapping and robbery, which was at the center of the case.
Harv and Nuke's verdicts came one day after Harv and his representative Camille Cushman issued a statement to Complex to tell his side of the story, in regards to 6ix9ine's kidnapping. In the statement, which marked the first time Harv had spoken out about the incident, he claimed that the kidnapping was staged by the "GUMMO" rapper.
While the government shot down this claim during closing arguments at the trial last week, saying 6ix9ine staging a robbery for the sake of publicity wouldn't make sense because being robbed would be embarrassing to him, Harv and his team claimed otherwise. "Danny didn't care if the stunt could be taken as embarrassing, he thought it was believable," Harv said in the statement. "He said it would even make some people feel bad for him, which was good after all the trolling he had done. It worked, even Shotti bought it."
6ix9ine is currently facing a 47-year prison sentence. However, after the guilty verdict, it seems like it will most likely be substantially decreased.
Photo: Getty Images
Chat About 6ix9ine's Testimony Sends Gang Members To Prison, Kidnapper Found Guilty