Selena Gomez Reunites With Niall Horan For Friends' Dinner Outing
By Hayden Brooks
October 4, 2019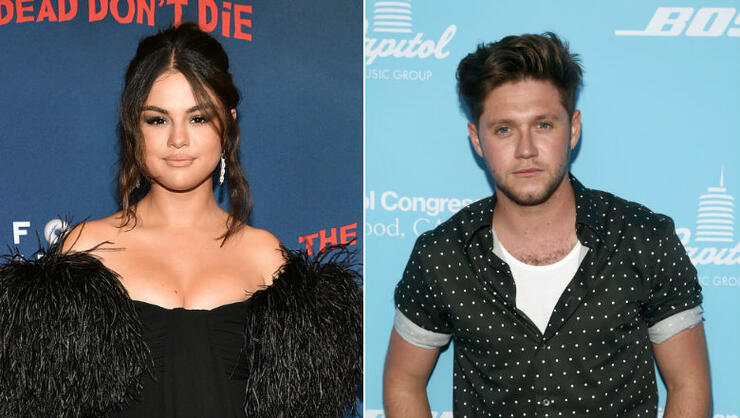 We don't know the extent of their connection, but Selena Gomez and Niall Horan were once rather close with one another and it seems the two are still on friendly terms.
Earlier this week, we saw Gomez attend the premiere of her Netflix docu-series, Living Undocumented, and visit the record studio, but on Thursday (October 3), she was also spotted with a group of friends, as well as the former One Directioner, at Italian restaurant Osteria Mozza in Los Angeles. After dinner, the group of pals took a photo on the sidewalk, as per friend Courtney Lopez's Instagram account, and it seemed like the perfect reunion. "With all of our schedules and travel, we don't get to see each other as often as maybe we would like, but every time we do get to sit down and share a meal together, it makes me emotional and so happy," Lopez captioned the shot.
Now, Gomez didn't share anything about the dinner on her own social media, but she did take a moment to promote Horan's new single, "Nice To Meet Ya," over on her Instagram Story. "This came out like 5 mins ago... and I'm pretty sure you need to download," she captioned the artwork for the track.
Back in 2015, the pair sparked dating rumors after an insider told Us Weekly that they were spotted kissing in a nightclub. "Niall and Selena were seen kissing in the middle of the club, in front of everyone," the source said. Gomez denied the romance in an interview with Entertainment Tonight, debunking the rumors with one simple reply. "Oh my god! No. I love him, I always have. He's amazing," she said in response to the rumors. Meanwhile, in 2017, Horan described the star as "really cute," so who knows what's really going on between the pair, but it's nice to see them out and about with one another.
Chat About Selena Gomez Reunites With Niall Horan For Friends' Dinner Outing