Eddie Vedder Performs With Adam Sandler And Judd Apatow For Charity: Watch
By Katrina Nattress
October 7, 2019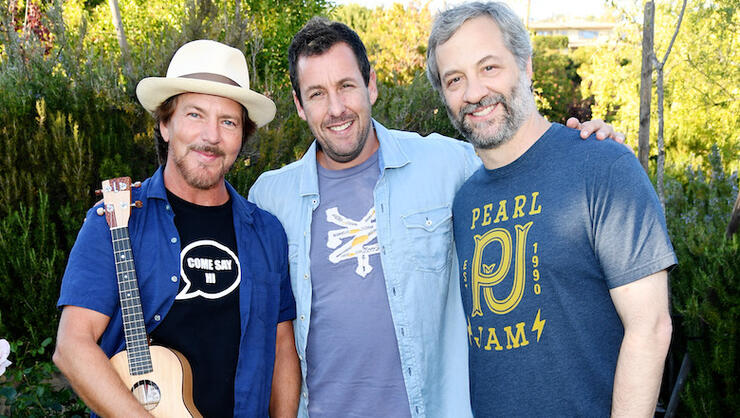 On Sunday (October 6) Adam Sandler hosted a charity event in Malibu, California called Rock4EB with the goal of raising money to help fight a rare disease called epidermolysis bullosa. The comedian was joined by celebrities ranging from Rami Malek to Julia Roberts and treated guests to some pretty special musical performances. At the end of the night, he brought out Judd Apatow and Eddie Vedder to play a rendition of Pete Townshend's "Let My Love Open The Door," which Vedder's band Pearl Jam famously covered in 1995.
Hollywood Reporter writer Chris Gardner was able to catch the performance on camera. Watch the footage below.
That wasn't the only special performance Sandler had in store for those in attendance. He also brought out his daughters Sunny and Sadie to sing Taylor Swift's "Lover" after revealing they had flown into California that morning after seeing the pop star's stunning Saturday Night Live performance the night before in New York City. The proud papa accompanied his girls on guitar and couldn't help but throw in some humor.
"Your knees are shaking, right?" he asked his daughters as he settled in with his guitar. "How do you think I feel? Every god***n night I do this s**t."
Watch that heartfelt performance below.