Kane Brown Tearfully Dedicates CMT Artists Of The Year Win To Late Drummer
By Blake Taylor
October 17, 2019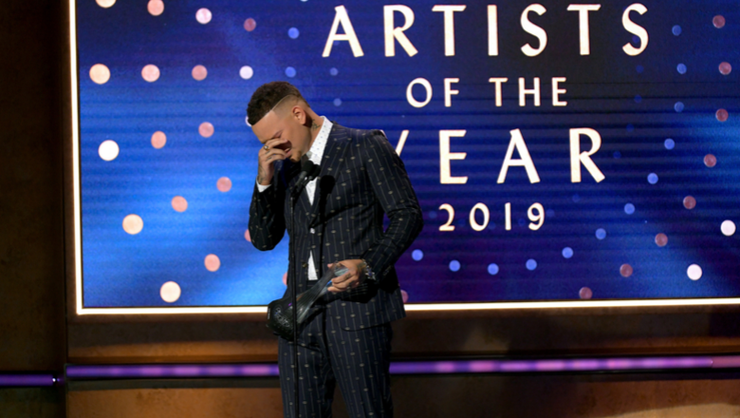 During the CMT Artist of the Year Awards on Wednesday night (October 16), Kane Brown honored his longtime drummer, Kenny Dixon who just passed away in a car accident on Saturday (October 12).
Brown took the stage, visible with emotion, and accepted his award from fellow country artist, Chris Young. The singer then went on to dedicate his award to his drummer who's been by his side from the very start.
"Thank you all so much. I want to dedicate this to our drummer Kenny," Brown said after letting out a heavy sigh with tears in his eyes. "He started with me coming out of Chattanooga off Facebook. People didn't think we would made it, he was with me the whole time. He was so supportive of me. And I love you man, I miss you. The band misses you."
Brown's speech reflected his previous comments shared on Instagram the day following Dixon's accident. "Love you so much dude!!! You started all of this with me from the start in 2015 when no body else believed we would make it out of Chattanooga playing for 500 people and your last show was in a Fn Stadium my guy," he writes alongside a photo of him and Dixon onstage. "I know u will be watching over us with that red neck [sic] accent that we all love and you will never be replaced bro!!! I promise u that!!"
Brown wrapped up his speech thanking his management, CMT, his fans, and the country music community, adding, "God bless you guys. Y'all stay safe."
The full speech can be watched below.