Meghan Markle Opens Up About Tabloid Scrutiny In Rare Video Interview
By Emily Lee
October 18, 2019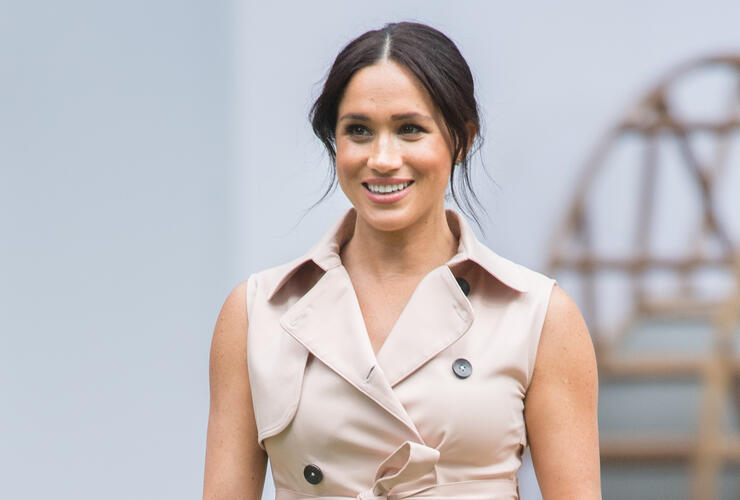 Meghan Markle will open up about the struggles of her new life as a member of the British royal family in a rare televised interview. In a new sneak peek of an upcoming documentary about the Duke and Duchess of Sussex's first royal tour of South Africa, Harry & Meghan: An African Journey, Meghan will candidly discuss what it's been like to experience constant tabloid scrutiny for the past two years. The Duchess does not hold back, either.
"Any woman, especially when they are pregnant, you are really vulnerable, so that was made really challenging. And then when you have a newborn, and especially as a woman, it is a lot," Meghan confesses.
"So you add this on top of just trying to be a new mom or trying to be a newlywed, I guess thank you for asking, because not many people have asked if I am OK," she continues, tearing up in the process. "But it's a very real thing to be going through behind-the-scenes."
Meghan and Harry recently announced they will be taking legal action against multiple British tabloids for their treatment of Meghan. In addition to a number of negative stories about the Duchess, the Daily Mail also published a private letter she wrote to her estranged father. Many of the tabloids also gave Meghan's estranged family a platform to publicly bash the Duchess.
ITV host Tom Bradby asks Meghan if it'd be "fair to say that [it's] not really OK and it's really been a struggle?" Meghan, visibly emotional, quickly replies "yes."
Prince Harry will also speak about the lasting effects of his losing his mother, Princess Diana, at such a young age during the upcoming documentary, as well. "I think probably a wound that festers," he says in a different teaser. "I think being part of this family, in this role, in this job, every single time I see a camera, every single time I hear a click, every single time I see a flash, it takes me straight back, so in that respect, it's the worst reminder of her life as opposed to the best."
"Being here now 22 years later trying to finish what she started will be incredibly emotional but everything that I do reminds me of her," Prince Harry continued, explaining why his royal tour of South Africa was so meaningful to him. "But as I said with the role, with the job, and the sort of pressures that come with that, I get reminded of the bad stuff, unfortunately."
In the aftermath of his mother's tragic passing, Prince Charles took both his sons to Africa to get away from the press. "Ever since I came to this continent as a young boy, trying to cope with something I can never possibly describe, Africa has held me in an embrace that I will never forget, and I feel incredibly fortunate for that," Prince Harry added. 
Harry & Meghan: An African Journey will air Wednesday, Oct. 23 at 10 p.m. on ABC. Will you be tuning in?