Old Dominion Talks Self-Titled Album, Co-Writing with Thomas Rhett & More
By Taylor Fields
October 25, 2019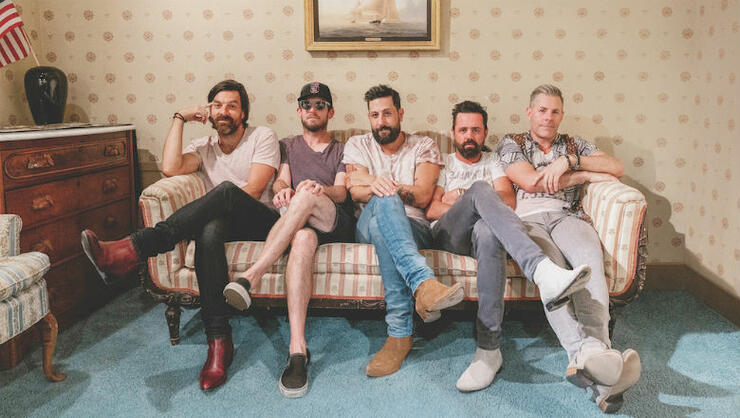 Old Dominion's third full-length album has officially arrived. The self-titled LP follows the band's 2017 album Happy Endings and showcases 12 new songs including singles "Make It Sweet" and "One Man Band," in addition to other previously-released songs "Never Be Sorry," "My Heart Is A Bar," "Midnight Mess Around" and "Some People Do."
Writing and recording this album was much different this time around for the group, as they took a less regimented approach. They tell iHeartRadio, "When we first started recording this album, we had a studio date set, but we hadn't talked about what we wanted to record, so we went in with no songs and this plan to see if we could write a song and record it in the same day. We had two days in a row, and we just said, 'Let's just go see.' We'd never done that before — [to go in and] 'see what happens.' And first song we wrote was 'Make It Sweet' and it became a number one hit. And then the second is called 'Hear You Now' and it's also on the album. We didn't put any pressure on ourselves, we just went in there and wrote, and played, and so that was a perfect way to start making this album."
Some of Old Dominion's songs were also recorded on the road, like the album's second single, "One Man Band." The song came about after hearing the phrase "One Man Band" while on their tour bus. They explain, "We were on the bus and it was a before a show. Lots of times before a show, there's radio people or people from all different organizations that will come say hi. And someone was on the bus and, I forget the context, but they said the phrase 'One Man Band,' and as a song writer, you're always listening. And my radar went off and I said, 'We have to write 'One Man Band,' that's a cool idea to write a love song [about] that you don't wanna be a one man band.' So then we had to walk to the stage to play, and our intro music is playing, and we're supposed to be walking out on stage, but instead we're all huddled around a phone, singing, 'I don't wanna be a one man band,' so that we don't forget it. So then we go play the show, and later that year, we sat down, we were in a dressing room somewhere, and we sat down with our friend Josh Osborne, and finished writing that whole idea. So, it all was on the road."
"Some People Do," which is co-written by Thomas Rhett, is one of the most personal songs on Old Dominion's new album. In fact, after the band shared the track for the first time, they wrote on Twitter of the tune, "We pushed ourselves on this album. This song is a side of us we haven't shown as blatantly, and it's a little scary to put out into the world. But part of our job as songwriters is to tell the truth, even if it's hard to go there."
Recalling how "Some People Do" came together and their dynamic with Rhett, the band revealed, "Obviously, writing it with Thomas Rhett, there's two artists in the room and the great thing about Thomas Rhett is he's a songwriter just as much as we are. And he cares just as much as we do about that process and just about getting the best song. So, in the room, no one's thinking about who is going to record this song. We're just thinking about the song. And then when it was done, we both recorded versions. I have his version. We both recorded vocals on it. And there were few texts back and forth of like, 'Are you gonna cut this? I don't know, maybe. Are you?' And then he said he was and I was like, 'Great,' and then he said he wasn't. Then I was like, 'Great.' So, we kinda went back [and forth]. It was a friendly exchange all the time, there was never any, like, 'I want it, you want it,' type of thing. But it just, luckily, landed with us."
Now that fans have Old Dominion's new album, they can look forward to seeing them on the road during Kenny Chesney's "Chillaxification" Tour next year. Performing their new music live is one of their favorite aspects of releasing new music in the first place because, as they explain, they love seeing the songs connect with their audience. The band tells us, "You sort of make these songs in a bubble and you record them in this little studio. And then when you get to go out into the real world and play them, and see that it actually connected with people, that's a cool feeling."
Old Dominion are no strangers to Kenny Chesney as the band has toured with the country star several times before, and the group has learned a lot with each trek. They say of Chesney, "We've learned so much from Kenny Chesney. Obviously, we've toured with him for four years and going again now. And when we first started out, we were just a baby act and didn't have a crew or anything, really. We just were there learning, and up until this point, we still stand on the stage and soak up everything he's doing. We've learned everything from how to run our business, and how to treat the people that we hire, and how to treat the people that are opening for us, and how to craft a set list, and how to reach people in the back row, and those are things that we soak up from him. It's invaluable, the time that we've spent on the road with him. And you learn something from everyone, really, whether it be what to do or what not to do."
This weekend, fans can listen to Old Dominion's new album on iHeartRadio for free! Here's how: Beginning October 25th through October 27th, iHeartRadio is handing over the keys to music fans to experience ALL that the app has to offer during All Access FREE Preview Weekend. In other words, experience all the perks of All Access on iHeartRadio ... for FREE. Search and play any song instantly, create unlimited playlists or listen to the hundreds of playlists we've created (including playlists curated by your favorite artists), as well as replay and save songs directly from the radio to your phone, and enjoy unlimited skips. Just open up your app and enjoy!