YUNGBLUD Describes 'Confidence' He Felt Wearing A Dress For The First Time
By Katrina Nattress
October 26, 2019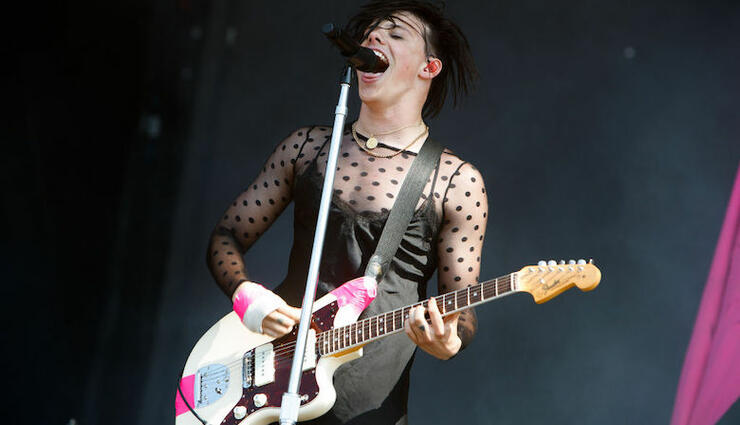 YUNGBLUD is not afraid to speak his mind. He's happy to discuss politics, open up about his sexuality, and break gender norms. And during a recent interview with PAPER, the English rocker recalled the first time he ever wore a dress.
"I was at my next door neighbor's house, her name was Annabelle," he said of the experience. "I was about 11, and she put it on me as a joke. As soon as she put it on me, I kind of unlocked a new avenue within myself. The way it felt on me, I loved the silk on my body. It kind of gave me this confidence, which started out as something humorous!"
He went on to describe the style he prefers. "I love black, little, tight dresses. The first time I came to New York, I used to just go into punk shops and buy skirts," he said. "Just high, short little schoolgirl skirts."
Watch the full interview below.
This isn't the first time the 22-year-old has opened up about his feminine style. During an interview with Attitude Magazine over the summer he attributed his move to London for truly liberating him. "I came to London to be liberated, to be able to paint my nails," he divulged. "To f**king try sex with a guy, to try everything, to fulfill my fantasies and figure out who I am." 
"That's why I f**king wear a dress on stage," he added. "We've been brought up with such boundaries: woman wears dress, man sees woman's curves, you can make baby. Western civilisation put women in dresses and men in trousers. Before that, in medieval times, every f**ker wore a dress."
"I wake up one day and want to look girly as f**k, and I'll wake up the next and walk out of the house in a Fred Perry polo shirt looking like I'll beat the s**t out of you," he continued.
Photo: Getty Images
Chat About YUNGBLUD Describes 'Confidence' He Felt Wearing A Dress For The First Time