Selena Gomez Wants The Guy Who Broke Her Heart To Listen To Her New Songs
By Peyton Blakemore
October 27, 2019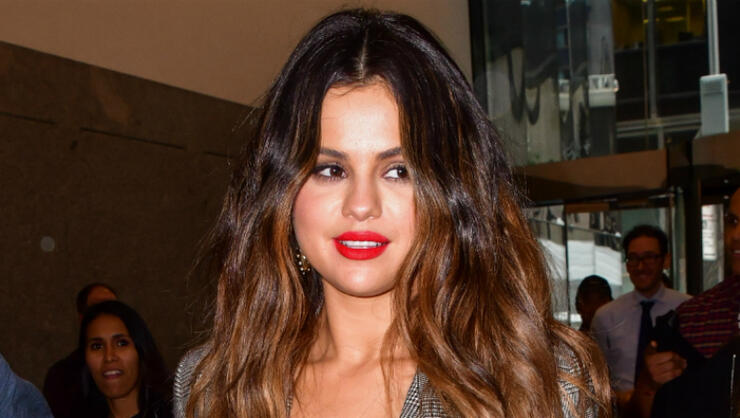 Selena Gomez may be over her ex-boyfriend Justin Bieber, but that doesn't mean she doesn't want him to know the pain their split put her through.
In a recent interview, Selena opened up about writing her latest singles, "Lose You to Love Me" and "Look At Her Now" — which she didn't explicitly say were about Justin, but all signs, meaning the inconspicuous lyrics, clearly point to JB — and how she hopes he will get a chance to listen to the tracks one day.
When asked if she hopes "the individual" who the songs are about hears them, Selena replied, "Yeah, I do." She added, "For me, my intentions are never evil. They just aren't. I don't even know how to do that. I can be a bit snappy but I always want to come from a place that's genuine, and when I feel like some things haven't been said then I get to turn that into art."
As fans know, the "Taki Taki" singer's comments came after she had to take to Instagram Live to encourage her fans to be nice after many bashed Justin's wife Hailey Baldwin for a recent post of hers that many took as a dig at Selena. "I am grateful for the response that the song is getting. I am so grateful. However, I do not stand for women tearing women down," she told her viewers. "I will never, ever be by that. So please be kind to everyone. It doesn't matter what the situation is, if you're my fans don't be rude to anybody, please. Don't go off and say things that you just feel in the moment," she continued. "Please, for me, know that that's not my heart. My heart is only to release things that I feel are me, and that I'm proud of."
Shortly after the release of Selena's new song, "Lose You to Love Me," Hailey shared Summer Walker's track, "I'll Kill You," to her Instagram Story. Many took that as Hailey throwing Shade at Selena and the track, which is interpreted as a goodbye message to Justin. However, Hailey later set the record straight via Just Jared, writing, "Please stop with this nonsense… there is no 'response.' this is complete BS."
Photo: Getty Images
Chat About Selena Gomez Wants The Guy Who Broke Her Heart To Listen To Her New Songs