Billie Eilish & Billie Joe Armstrong Chat About Fame, Staying Sane On Tour
By Katrina Nattress
October 29, 2019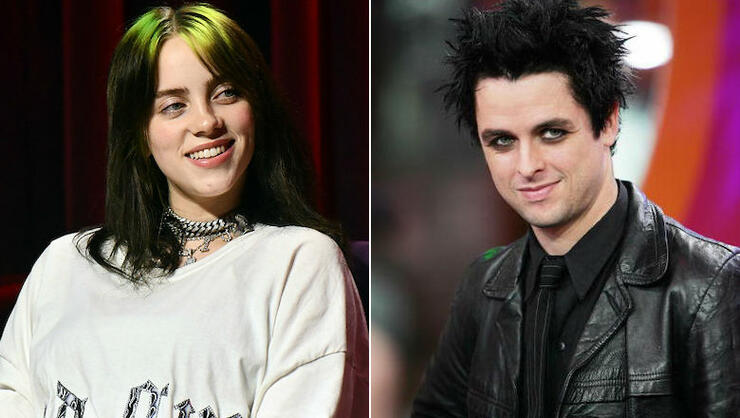 Billie Eilish has been listening to Green Day since she was nine years old. Her favorite song is "All by Myself," the Tre Cool-led acoustic hidden track on 1994's Dookie, which came out seven years before she was born. She has her brother FINNEAS to thank for her fandom—he was so hardcore that he tried to emulate Billie Joe Armstrong's look. She divulges all this in front of the frontman himself, during the latest edition of Rolling Stone's Musicians on Musicians series, where stars interview each other.
Though there's a 30 year age gap between the two singers, Armstrong can relate to what Eilish is going through — he was 22 years old when Green Day made it big. "I remember being pretty freaked out. I was playing a kind of music that had never been on that kind of scale before," he recalled about the Dookie days.
The anti-pop star admitted that she didn't think anyone would like her music when she put it out. "I've been surprised people like my music. Because there's such a world of liking nothing, music that's not really doing anything," she said. "I remember having this conversation with my mom about 'Bury a Friend.' We were like, 'Nobody's gonna give a f**k, because the lyrics are 'I want to end me.' ' And I really, honestly did not think anyone would care. That's why this whole ride has been so weird."
Touring has been something the 17-year-old had to get used to. "There was a period where I was like, 'Do I even enjoy music?'" she confessed. "It just felt like so much touring. And I don't mean the shows. The shows are always my favorite part. But it was just traveling and being alone all the time, on a cold bus in Europe, horrible food, and when you come back, everyone's kind of moved on from you. This last tour I went on was the first I've ever enjoyed. I feel like I have this amazing thing that now I actually see."
"Yeah, you go out on tour, you'll be out for a year, and people get married, things change," Armstrong added. "You have to have good people around you, and good distractions to keep you sane."
Armstrong gushed about his time with the "rebel" Eilish in an Instagram post. Check it out below and read the full feature here.
Chat About Billie Eilish & Billie Joe Armstrong Chat About Fame, Staying Sane On Tour