Haim Pull Off Spot On Hanson Impersonation For Halloween: Watch
By Katrina Nattress
October 31, 2019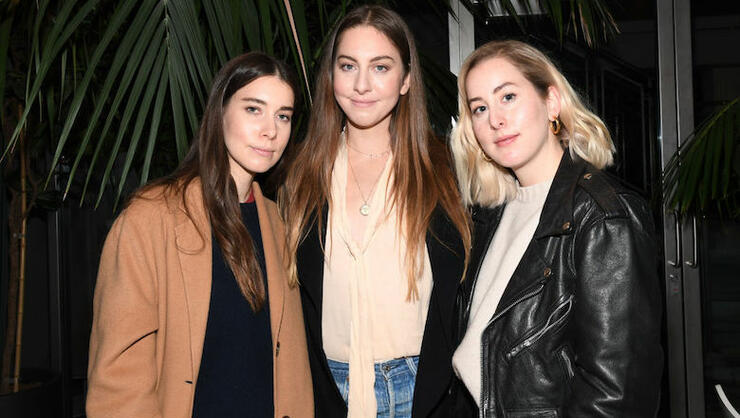 Haim are getting into the Halloween spirit by impersonating another famous sibling trio. On Tuesday (October 29) the sisters shared a hilarious video on Twitter that shows them covering Hanson's "Mmmbop" while dressed like the iconic '90s group. Their punny caption makes everything even more hilarious.
"happy HAIMoween," they wrote, "get ready for our new song thats a HAIMMMMMMMMbop TOMORROW xoxo HAIMson"
Alana, Este and Danielle love getting into the festive spirit. Last year they dressed up like the Sanderson sisters from Hocus Pocus and shared a great video singing 'I Put A Spell On You."
Check out their spot-on Hanson impersonation below.
Though the teaser was light-hearted, Haim's new song "Now I'm In It" is anything but. The trio prefaced its release by explaining its heavy subject matter via Instagram.
"now i'm in it is about going through it," Danielle wrote. "a depression. not leaving the house type of s**t. for my sisters and i, there have been times in our lives where we have felt like we are stuck in a dark hole. this track speaks to that emotion."
"the track is chaotic- like my mind when i'm spiraling. fast-talking to myself- words jumbled up. heartbeat racing," she continued. "these times are hard to forget and even harder to work through. after being constantly on the go the past couple years, i didn't wanna stop and deal with some s**t. also, every day my sisters and i feel so f**king lucky that we get to do this for a living!!! it seemed like stopping and dealing with these emotions would be letting everyone down. but every time I've been depressed- it takes me accepting that I need help, to start to get out of it."
"it's gotten a little easier as i have gotten older to recognize the symptoms and remind myself that when this happens, i need to seek help (shout out to my therapist!!)," she concluded. "anyway, we all know it's important to talk about this stuff. this one poured out of us. take care of yourself. be nice to yourself. and thank the ones around you that help u everyday. hope this helps anyone who is in it right now"
See the emotional post and watch the "Now I'm In It" video below.
Chat About Haim Pull Off Spot On Hanson Impersonation For Halloween: Watch