Danny Carey: TOOL's New Album Was "Actually Rushed," Didn't Take 13 Years
By Andrew Magnotta @AndrewMagnotta
October 31, 2019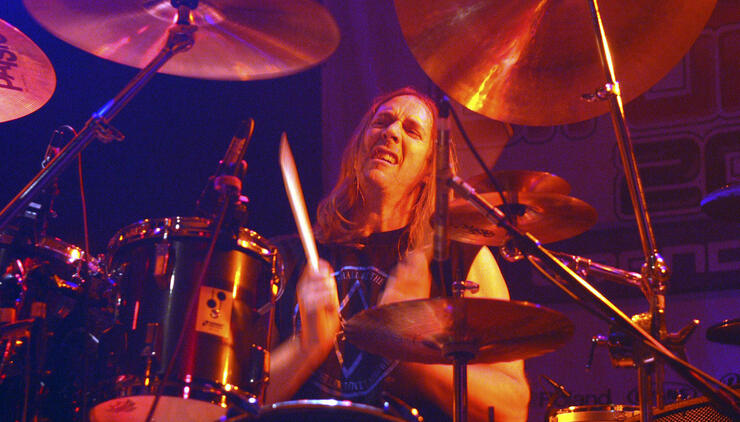 Tool drummer Danny Carey says that despite the 13-year gap between the band's previous two albums, it's latest full-length, Fear Inoculum, did not take that amount of time to make.
In a recent interview with the Kerrang! Inside Track podcast, Carey points out that Tool toured on its 2006 album, 10,000 Days, for several years before starting work on what became Fear Inoculum, which was the No. 1 album in the country when it was released this past August.
He says Fear Inoculum didn't take that much longer to write and record than the band's previous albums (which all have three to five year gaps between them).
"We toured for five or six years after 10,000 Days, then we didn't want to see each other for a little while so we took a couple of years of break, had kids, and then we started working," he explained. "We were probably [working a] good, solid five years on [Fear Inoculum]."
The drummer suggested that he actually likes the narrative that the band was working on the album for over a decade, but it's just not true.
"I kinda wish I could say it did take 13 years to make," he said. "There's nothing wrong with that. We actually rushed it a bit."
Not long after Tool concluded its initial tour for 10,000 Days, singer Maynard James Keenan began his Puscifer band, his Caduceus winery and then reunited with A Perfect Circle.
Then Carey and bassist Justin Chancellor started other musical projects, while Tool toured only sparingly, sticking to a predictable setlist that left fans wondering if the band members had checked out of the band creatively.
There were rumors of a new album in the works, but the members rarely addressed it publicly, except to deny its imminent release.
Carey explains that Tool's writing process takes a long time because it involves a great deal of lengthy improvised jam sessions to explore song ideas and then even more editing and revising. Sometimes Carey, Chancellor and guitarist Adam Jones will work on an idea for months, he says, only to have it morph into a part of another song.
"We don't have anybody in our band that's like a composer, so ... we're all in there doing it together day by day," he said. "And I don't suggest this to any other band (Laughs), but that's the way we do it, and that's the way we've always done it."
He emphasized that the band takes its time on new music because the members want a finished product that all four of them can get behind, "every bar is scrutinized, and that's the result of what you'll hear on this record."
Furthermore, Carey corroborated Keenan's assertion that multiple times during the Fear Inoculum writing process, the band send its singer music to write vocals to only to go back and change it out from under him.
Tool just began its North American Fear Inoculum tour. Get all the tour dates here.
Photo: Getty Images
Chat About Danny Carey: TOOL's New Album Was "Actually Rushed," Didn't Take 13 Years