Meghan Markle Broke Royal Protocol With New Interview: 'I Want To Be Heard'
By Emily Lee
November 1, 2019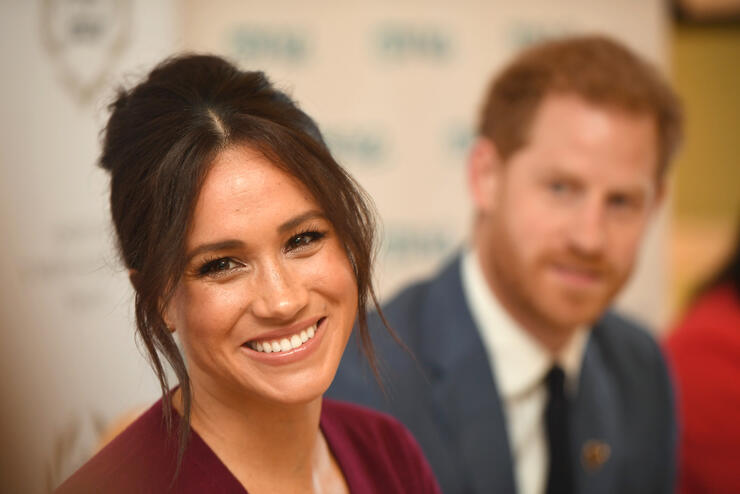 Meghan Markle is continuing to speak out. Though members of the British royal family rarely participate in TV or print interviews, the Duchess of Sussex has done both in a matter of weeks. While giving one-on-one newspaper interviews is reportedly considered a breach in royal protocol, Meghan invited reporter Bryony Gordon from The Telegraph to join her during a visit to Luminary Bakery. The Duchess shed some light on why she decided it was time to stop biting her tongue and open up about some of the difficulties she's faced in the past year.
During her visit to Luminary Bakery, which hires women from vulnerable circumstances and equips them with the job skills necessary to work in the food industry, Meghan opened up her experience with her official royal duties. "One of the things I have realized since being here [in the UK] is that people have an expectation when I'm coming somewhere, so I'm like, 'Let's just be really relaxed, keep everyone nice and chilled, because at the end of the day we're all just women,'" Markle said. "We all have a story to tell, and I feel honored that I am getting to hear yours."
While Meghan feels honored to hear other women's stories, she expressed her desire for the same courtesy to be extended to her, as well. The reporter writes Meghan "told me that she didn't want people to love her -- she just wanted them to be able to hear her."
This sentiment echoes Meghan's statements from her ITV documentary Harry & Meghan: An African Journey last month. While discussing the intense tabloid scrutiny she's been under since marrying Prince Harry, Meghan said she's opening to listening to constructive criticism, however, she's instead judges for a number of things that have nothing to do with her role in the royal family, including eating avocado toast, how she holds Archie and even her own relationship with her estranged family members. Instead of attention being paid to the charitable work she's doing with her husband, the tabloids have focused on gossip and drama.
"The biggest thing I know is that I never thought that this would be easy, but I thought it would be fair," Meghan said in the ITV interview. "And that's the part that's really hard to reconcile." As she said during her visit to Luminary Bakery earlier this week, she just wants the British people to be able to hear instead of only the tabloids.
Photo: Getty
Chat About Meghan Markle Broke Royal Protocol With New Interview: 'I Want To Be Heard'