Jordan Davis And Julia Michaels Team Up For 'Cool Anymore' Duet
By Blake Taylor
November 11, 2019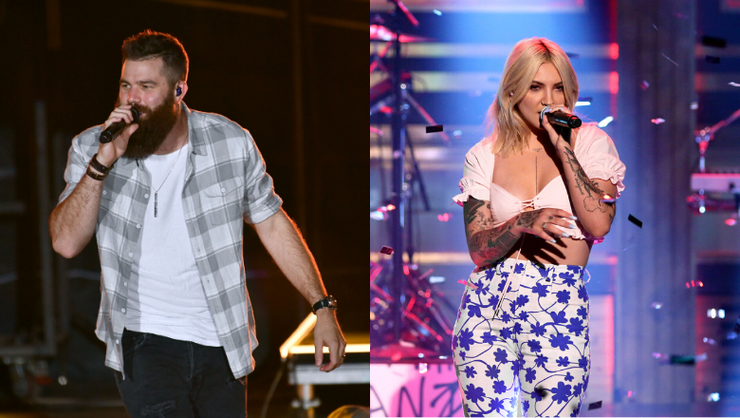 Jordan Davis teamed up with pop singer Julia Michaels on a new song titled "Cool Anymore." The song was released on Friday along with a music video showing the two artists singing to each other and goofing off in an empty church.
"You don't have to be cool anymore / Show me a side that nobody else knows / Drop that act with your keys at the door / Lose the mirrors, I see through the smoke / Save all that for the rest of the world, come on let me love you girl / Don't you know that I'm already yours / you don't have to be cool anymore," the two sing.
Davis, who co-wrote the song with Michaels, Ross Copperman, Emily Weisband and Nicolle Galyon, says it's "a song about not taking things too seriously."
"We spend a lot of time playing shows and it's easy to get caught up in it, but this song is just a reminder to leave work at work," Davis explains. "It's a job. Enjoy it, go out to do the music thing but then come back and be a husband and a friend."
"It's just a fun, chill vibe that has a nice little groove to it and makes you smile and feel good," adds Michaels. "We're lucky to be able to go home and let loose with the ones we love."
Davis' current single, "Slow Dance In A Parking Lot" off his debut album Home State, is approaching the Top 20 at country radio. The country singer recently announced his headlining "Trouble Town Tour" kicking off on January 10, 2020 in Milwaukee, Wisconsin. The tour takes its name from Davis' song "Trouble Town." Joining him on the trek will be two rising country stars Kassi Ashton and Hailey Whitters.
Take a listen to Davis and Michaels' new duet, "Cool Anymore" below.
Chat About Jordan Davis And Julia Michaels Team Up For 'Cool Anymore' Duet