Demi Lovato Makes It Instagram Official With New Boyfriend Austin Wilson
By Peyton Blakemore
November 13, 2019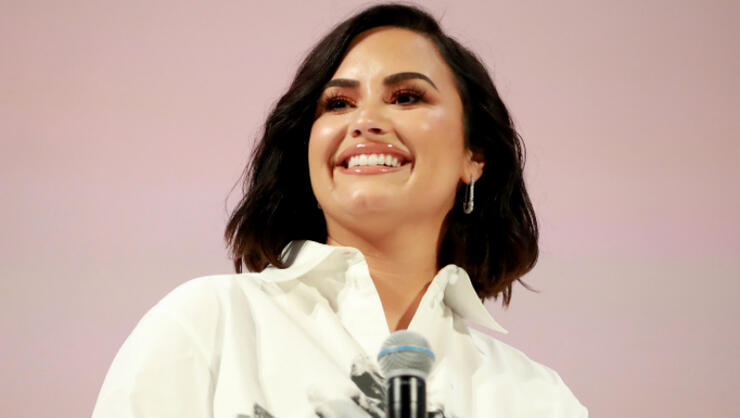 Demi Lovato is in love.
Late Tuesday night (November 12), the 27-year-old singer made her relationship Instagram official, sharing the first photo of her and her new boyfriend, Austin Wilson. "My ❤️," Demi captioned a black-and-white photo of Austin kissing her on the cheek.
Meanwhile, the 25-year-old model shared a similar cute photo to his Instagram on Tuesday that showed him with his arms wrapped around Demi. Like his new lady, he captioned the loved-up pic, "My Love."
So, just who is this Austin Wilson? Well, according to Cosmopolitan, he and Demi run in the same friendship circles. While it's not yet known how the two met, Demi and Austin were reportedly both close to model Thomas Trussell III, who tragically died after a battle with addiction in October.
Demi was last linked to Bachelorette alum Mike Johnson. The 31-year-old reality star confirmed that he went on a date with Demi, who's a die-hard Bachelor/Bachelorette fan, in September after months of romance speculation.
As fans know, Demi initiated the first move, sharing her interest in Mike on Instagram, writing "Mike, I accept your rose," while he was on the ABC dating show. The "Confident" singer then showed up at the live Bachelorette reunion show in July. Then, after a few flirty messages on social media, Mike shot his shot, telling Us Weekly he wasn't scared to take the pop star out. Weeks later, he spoke about Demi being a good kisser on Ben Higgins and Ashley Iaconetti "Almost Famous" podcast. However, he later backtracked on the statement in an interview with Us Weekly.
Photo: Getty Images