Brad Paisley's Sister-In-Law Reveals He Refrigerates His Guitars
By Blake Taylor
November 20, 2019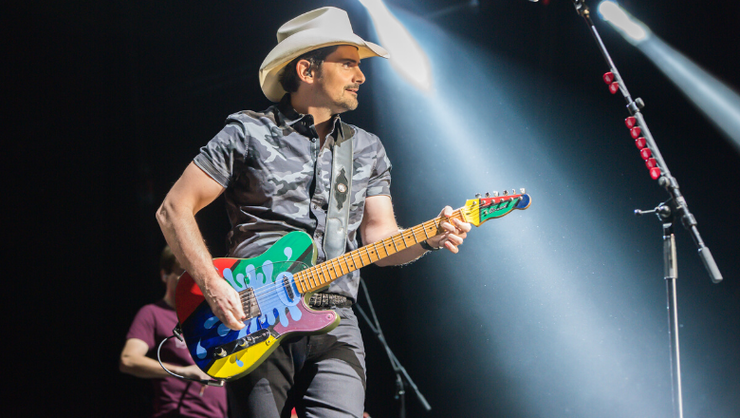 None of Brad Paisley's secrets are safe from his sister-in-law Ashely Williams. Recently, Williams revealed a few secrets that she's learned about Brad through her sister Kimberly Williams-Paisley.
"I just feel like there's no secret that Ashley doesn't know about me," Paisley told PeopleTV. "That's her [Kimberly]'s best friend."
He continues, "I mean, you know how people say my husband or my wife is my best friend? No, my wife's sister is her best friend. I'm a close second, maybe."
While visiting PeopleTV herself, Ashley couldn't help but laugh in response to Brad's previous interview. "It's true. He's the best. We love him," she says. "My sister and I appreciate him completely."
After confirming that she does know a lot about Brad, Ashley was asked to share a bit more detail on some of those "secrets."
She revealed, "One time, Brad was making hard-boiled eggs. He put the eggs on the stove and then walked away for eight hours. Stove on," she says, bursting into laughter. "My sister walked in, and it was just like black smoke coming off the eggs."
Ashley went on to open up about a time when she and Kimberly were on the phone talking about what to make for dinner. "[Kimberly] opened up her freezer, and there were three guitars in her freezer. She was like, 'I can't even get to the food.'"
Ashley then questioned her sister, asking, "Why are there guitars in the freezer?" Kimberly responded, "I don't know. It's just Brad; he does things like that. He does that all the time."
Although the exact reason is unknown, if someone as talented as Brad is doing it, then it has to be for a good reason. The country star is well known for his extensive guitar collection and rarely takes the stage without one.
Most recently, Brad and his wife skipped out on the 2019 CMA Awards to take a vacation to the beach. Kimberly recently turned to Instagram to share a hilarious video of Paisley attempting to bodysurf, but failing to stand up against the crash of the waves.