Kimberly Williams-Paisley Shares Hilarious Vacation Video Of Brad Paisley
By Blake Taylor
November 18, 2019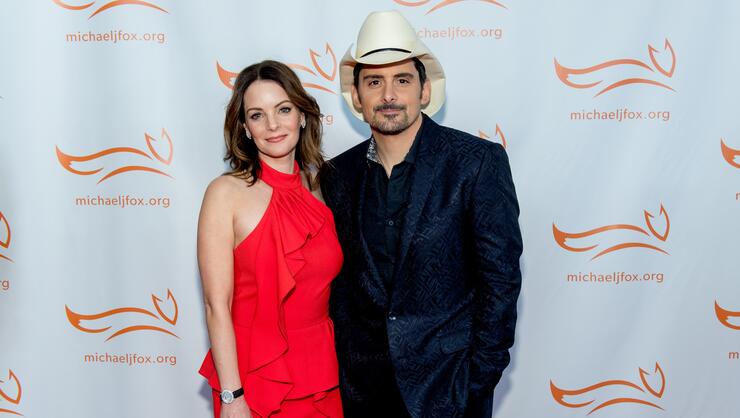 Brad Paisley's wife, Kimberly Williams-Paisley is sharing hilarious footage of her husband while on vacation at the beach.
In a recent clip shared to her Instagram, the country singer is seen being thrashed by ocean waves as he makes an attempt to bodysurf. Kimberly can't contain her laughter as she watches her husband get up to walk toward the beach only to get knocked over by another wave that sneaks up behind him.
Also seen in the video putting up a fight against the waves is Los Angeles Dodgers' catcher, Clayton Kershaw. He and his wife, Ellen, were also on the vacation with Brad and Kimberly.
"@bradpaisley and @claytonkershaw are the definition of grace and athleticism," Kimberly jokes in the caption, adding, "Thx for documenting @ellenkershaw!" The country star reposted the video himself adding "Aqua Men..." to his caption.
This year, the "Mud On The Tires" singer traded the red carpet for the beach. For the first time in over a decade, Brad did not host the CMA Awards alongside Carrie. Instead, Carrie was joined by Reba McEntire and Dolly Parton to co-host country music's big night.
"Thanks to Brad Paisley for stepping back and letting us get out and do our thing tonight," Dolly said after the show's opening number. "He and Kimberly are on vacation, we know they're watching. We miss you, Carrie's missing you a lot. But we told her to suck it up, she's got the two of us."
Although Paisley couldn't make the CMA Awards this year, he does plan to return to prime time TV with his new series, Brad Paisley Thinks He's Special. The new special will feature appearances from a long list of celebrities like Underwood, Kelsea Ballerini, Darius Rucker, the Jonas Brothers, The Bachelor host, Chris Harrison, Peyton Manning, Tim McGraw and more.
Brad Paisley Thinks He's Special will air on ABC on Tuesday, December 3 at 8 p.m. ET.
Chat About Kimberly Williams-Paisley Shares Hilarious Vacation Video Of Brad Paisley