Little Big Town Shares Music Video For Heartbreaking New Song 'Sugar Coat'
By Blake Taylor
November 22, 2019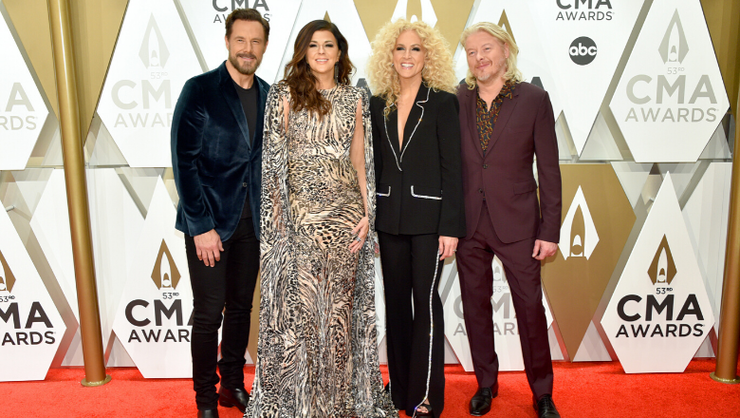 Little Big Town's heartbreaking new song "Sugar Coat" portrays the pressure some feel to make their life look perfect to others, even when the reality is they are far from it. 
"Sometimes I wish I liked drinkin' / Sometimes I wish I liked pills / Wish I could sleep with a stranger / Someone like me never will / Sometimes I hardly can stand it / I just smile with a lump in my throat / Sometimes I wish I could bear it / Didn't have to wear this sugar coat," the group's Karen Fairchild sings in the chorus.
The song was released on Friday (November 22) along with a powerful music video that stars actor and producer Kate Bosworth as a 1960s housewife and Isiah Stratton as her husband. The video, directed by brother-sister duo Stephen and Alexa Kinigopoulos, finds Bosworth trying to keep it all together despite her husband's wandering eye. As the film progresses, the main character eventually finds her voice again and discovers a strength she didn't know she had. 
"I play a woman who is in a complicated marriage," Bosworth says. "She is often lonely and unfulfilled – realizing that she is not getting what she needs from a partner, devastated by the choices that her husband is making. As she slowly discovers what is happening, while it's a sad moment, it is ultimately a resilient one. She finds her strength, her fortitude, and ultimately herself. It was an honor to bring this song to life with a band that I love."
"Sugar Coat," written by Lori McKenna, Josh Kerr, and Jordyn Shellart, is one of 13 songs from Little Big Town's upcoming new album, Nightfall, due out on January 17. The album will also feature their current single, "Over Drinking," as well as "The Daughters." 
See how the story unfolds in the telling new "Sugar Coat" music video below.
Chat About Little Big Town Shares Music Video For Heartbreaking New Song 'Sugar Coat'