Panic At The Disco Share 'Into The Unknown' Video Off 'Frozen 2' Soundtrack
By Katrina Nattress
November 23, 2019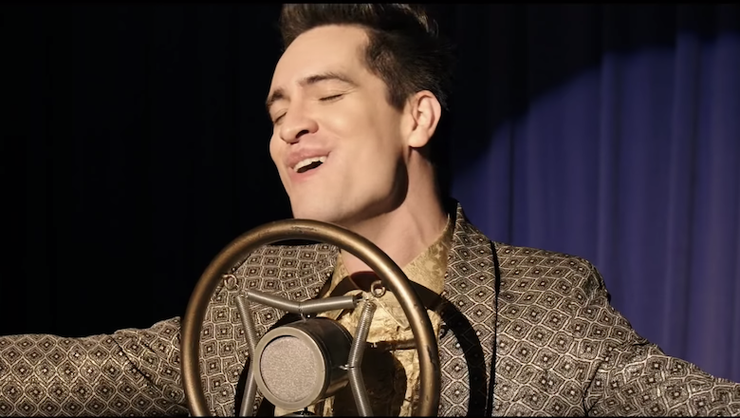 Frozen 2 hit theaters on Friday (November 22), and to celebrate its release Panic! At The Disco shared the video to their soundtrack contribution, "Into The Unknown." The song is originally performed by Elsa (Idina Menzel) in the movie, as she grapples with her inner urge for adventure, and Brendon Urie relays that sense of struggle flawlessly as he sings lines like "Everyone I've ever loved is here within these walls/ I'm sorry secret siren, but I'm blocking out your calls/ I've had my adventure/ I don't need something new/ I'm afraid of what I'm risking if I follow you/ Into the unknown."
The visuals mirror the song's themes as the camera cuts between Urie stepping onto a stage to sing to a crowd he can't see and clips from the movie as Else fights her way across a stormy sea. Watch the "Into The Unknown" video below.
The soundtrack includes seven original songs written by Frozen's Oscar-winning songwriters Kristen Anderson-Lopez and Robert Lopez, all performed by the film's vocal cast, including Kristen Bell, Menzel, Josh Gad, Jonathan Groff and Evan Rachel-Wood, as well as tracks from the movie's original score by Christophe Beck.
P!ATD isn't the only artist to make one of the original songs its own. Weezer (performing "Lost in the Woods"), and Kacey Musgraves (performing "All is Found") all appear in the film's end credits.
You can purchase the Frozen 2 soundtrack here.
Photo: YouTube