Billie Eilish Delivers Fiery Award Show Performance Debut At 2019 AMAs
By James Dinh
November 24, 2019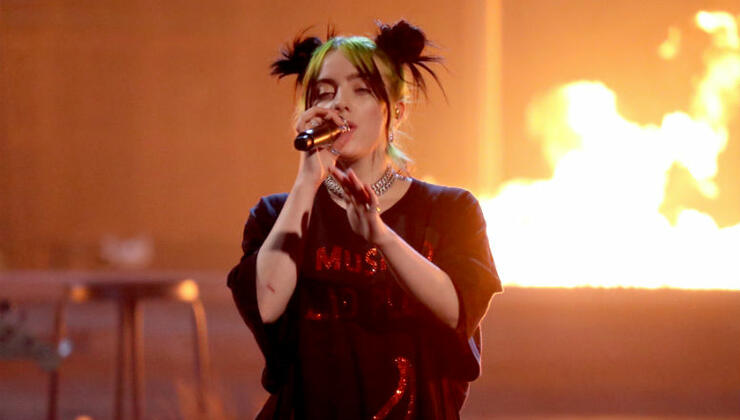 2019 has been a breakthrough year for Billie Eilish and the chart-topper is ending the year on a high note. On Sunday (November 24), the pop titan continued to make history by delivering her award show performance debut at the 2019 American Music Awards with her hit, "all the good girls go to hell."
For the number, the superstar, 17, took to the Microsoft Theater stage in matching oversized shirt and shorts, alongside her older brother/right hand producer Finneas on piano to sing "all the good girls go to hell." While the video played behind her, Eilish's stage lit up in flames to push the fiery theme of visuals. "All the good girls go to Hell/ 'Cause even God herself has enemies/ And once the water starts to rise/ And Heaven's out of sight/ She'll want the Devil on her team," she crooned during the mid-tempo number. The track is the latest single from her debut album, When We All Fall Asleep, Where Do We Go?
Surprisingly, Eilish's performance didn't include a portion of her latest single, "everything i wanted," the track dedicated to Finneas, while also being a reaction to her sudden rise to superstardom. "We started writing it because I literally had a dream that I killed myself and nobody cared and all of my best friends and people that I worked with basically came out in public and said, like, 'Oh, we never liked her,'" Eilish recently said of the track in an interview with Annie Mac. "In the dream, the fans didn't care. The internet sh*t on me for killing myself, all this stuff, and it really did mess me up. I mean, the message behind the song is like […] my brother is my best friend, and I have these dreams and these things happen, and no matter what happens, he's gonna always be there for me, and it's the same the other way around."
Prior to the number, Eilish appeared on Jimmy Kimmel Live! to discuss her big debut, admitting that she doesn't look at her peers as competitors. "It's more like competitiveness with myself if that makes sense," she explained. "I go up there to be better than myself. It's weird that this whole universe is trying to pit every artist against each other. It's so weird."
If you want more of the superstar, make sure you catch her at iHeartRadio ALTer EGO Presented by Capital One on January 18, 2020, alongside The Black Keys, The Lumineers and more, as well as her own 2020 "Where Do We Go? World Tour."
Chat About Billie Eilish Delivers Fiery Award Show Performance Debut At 2019 AMAs