Coldplay Celebrates 'Everyday Life,' Explains Meaning Behind Double Album
By Taylor Fields
November 26, 2019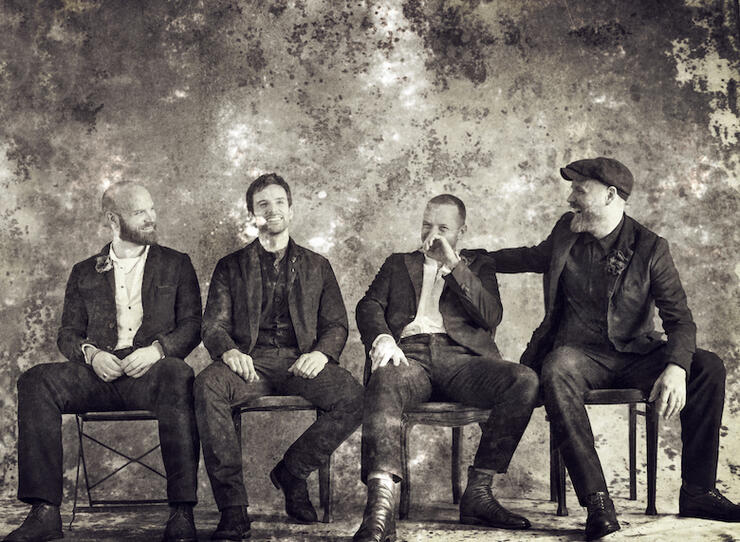 Coldplay has officially returned with a brand new album. The band shared their eighth full-length LP, Everyday Life, on November 22nd, and celebrated big with a very special performance in Jordan.
During their exclusive iHeartRadio Album Release Party special just a few days later, fans were able to listen to some of these performances, and hear Coldplay's Chris Martin talk about Everyday Life in detail with iHeartRadio's Harms. Throughout performances of Everyday Life songs including "Arabesque," "Trouble In Town," "Èkó," "Cry Cry Cry," "Daddy" and "Orphans," in addition to fan favorites from previous albums like "The Scientist," "Something Just Like This" and "Viva La Vida," Martin opened up about how the band's new double album came together, what the music means, and so much more.
Everyday Life follows Coldplay's 2015 album A Head Full of Dreams, and it's divided into two parts: "Sunset" and "Sunrise." The LP features 15 new songs in total, produced by The Dream Team, and features appearances from Stromae, Femi Kuti, Tiwa Savage and Jacob Collier. Martin previously explained to BBC 1 of the songs on Everyday Life, "It's all about just being human. Every day is great and every day is terrible ... It just feels kind of free. There's so much life bursting out on the planet."
Speaking to Harms, the frontman explained of the Everyday Life theme, "I think the main theme is just being human. And sometimes the songs are very much personal experience, and other times they are empathetic in terms of thinking what other people are going through, or seeing what other people are going through. And so, I think that's why we called it Everyday Life, because it's just kinda the spoil and the stew together."
Having tackled such candid topics in their new music, the band decided that they were going to "remove all the filters" and be completely open. Chris said, "We decided to just remove all the filters. I think after the last war finished, we felt very open, and also we connected with people in so many places, and it just somehow gave us this feeling of freedom. And you can sometimes get worried by commercial or critical pressures, and we just decided to release all of those pressures and just give off pure, unfiltered songs."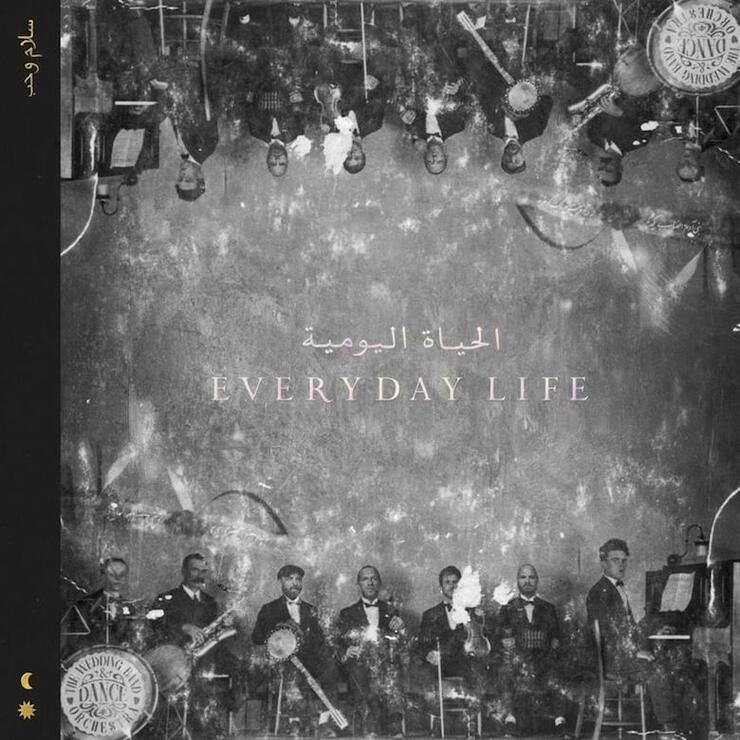 Everyday Life is certainly the next step for Coldplay, and as they've moved into this next era of music, they're in a very comfortable place with the band (especially in terms of public opinion) and have taken a page out of Bruce Springsteen's notebook. Martin explained, "Well, that's something I learned from Bruce Springsteen. Especially now if you're a young artist, if you come up, there's such a plethora of opinion coming at you all day, everyday on Twitter and Instagram and everything, that it could sometimes become hampering and restrictive. And we've definitely felt that at times in our journey so far, and you get a little nervous. I think now there's such a torrent of opinion that you may as well just follow your heart entirely, and just deepen in what you do and what you love. And I think that I know that that's how we feel about Coldplay is, 'Yeah, this is what we do and we love it, and if you love it, awesome. And if you don't love it, that's okay.'"
Of course, this took a while for the band to be comfortable with — the band has been releasing albums for nearly 20 years now. Chris said, "It takes years and lots of practice and teaching, and still, I wobble every so often. Because [there are] very few musicians who set out to upset anybody. You're trying to bring people together, and you're trying to just sing what your heart wants to sing for yourself and the negative intentions. So, when you feel like you might be upsetting some people, it throws you, really, for a loop. Then it takes a while to say, 'Well, okay.' Even that is providing some sort of service if you can let someone rage at you."
Everyday Life is divided into two parts: Sunrise and Sunset. And according to Chris, each of the songs has a reason for being on the appropriate halves. He explained, "I'd say, the first half is more the tangles, and the second half is more the possible ways of untangling. Every human encounters some issues. And then you can learn tools to let them overwhelm you or not overwhelm you, if you see what I mean."
It may have taken Coldplay almost four years to release another new album since A Head Full of Dreams, but Everyday Life has actually been ten years in the making. On their last tour, the band had a studio backstage which is where some of their song ideas originated from. Martin recalled, "The seeds of Everyday Life were sewn about ten years ago. We started trying to make an album called 'The Wedding Album,' which was a slightly similar original flavor of, like, 'Okay, let's go very raw and very pure.' And then we got distracted, and then we didn't quite have the right songs, and ... Yeah, you're always in service of the songs when they decide to arrive. A few songs have been picked up over the years. A bit of one is from that original session, and in the last year of the last tour, we had a studio backstage, and I said to all the guys there, 'This is what all of us may be thinking about.' So we started chatting on some ideas, and then we did have a village of people."
Coldplay announced Everyday Life by sending letters to fans — a scaled back approach compared to the beginning of other album launches. But the tactics they used, especially the letter-writing, is all part of the Everyday Life aesthetic — the songs are meant to be "one-one-one." Martin explained, "I think that right now, I'm just yearning for human connection. And this set of songs is really supposed to be quite one-on-one type of songs. They [don't] really seem to me like big stadium songs or anything, but they're more just of me speaking to you speaking to me."
Speaking of human connection and being human, Martin called Everyday Life their "blue marble album," comparing the LP to a very famous photo of Earth taken by astronaut William Anders from space during the Apollo 8 mission. He said, "When whichever Apollo went up into space, they took a picture from the Moon — 'Earthrise,' a picture taken from the Moon with the Earth rising like the sun would rise. So, this is our album. It's just like, 'Okay. We're all on this little rock together. You can either be afraid of everybody and disengage from everything, or you can lean in and say, 'I love being a human, and I love you for being a human. I don't care where you're from or what you look like, and no problem is insurmountable.'"
Chris added, "You see people really dedicating their lives at the moment to say, 'Hey, we've gotta look after each other, and we've gotta look after the planet.' How could you not want to be part of that?"
Listne to Coldplay's Everyday Life on iHeartRadio.
iHeartRadio Album Release Party with Coldplay Set List:
"Arabesque"
"The Scientist"
"Something Just Like This"
"Trouble in Town"
"Èkó"
"Cry Cry Cry"
"Sparks"
"Daddy"
"Viva la Vida"
"Orphans"