Pete Townshend Loves The Who Without "Difficult" Keith Moon, John Entwistle
By Andrew Magnotta @AndrewMagnotta
November 26, 2019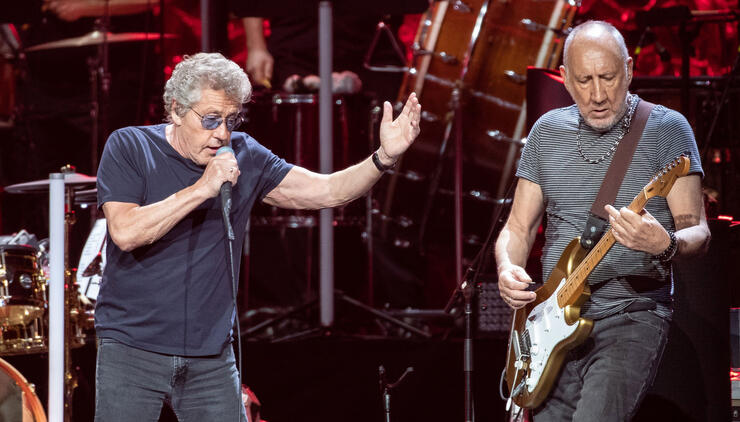 While Pete Townshend isn't necessarily saying he's grateful for the deaths of The Who's iconic rhythm section of Keith Moon and John Entwistle, he is happy he's not in a band with such a capricious duo anymore.
Townshend recalled the challenges of being in a band with the late-drummer and late-bassist in a recent interview with Rolling Stone.
"It's not going to make Who fans very happy, but thank God they're gone," Townshend said. "Because they were f---ing difficult to play with. They never, ever managed to create bands for themselves. I think my musical discipline, my musical efficiency as a rhythm player, held the band together."
While Entwistle, who died in 2002, is a legend for his explosive bass lines and gut-busting tone, Townshend says he's never appreciated the hearing-damage he sustained over the near-40 years of being in a band with The Ox.
"Every not, every harmonic in the sky," Townshend recalled of Entwistle. "When he passed away and I did the first few shows without him, with Pino [Palladino] on bass, he was playing without all that stuff. ... I said, 'Wow, I have a job.'"
Though Moon is a legend at the drum kit, his signature flair is also blamed for inspiring a generation of bad drummers who don't know the basics. Townshend says sharing a stage with Moon wasn't all it was cracked up to be; every song was teetered on the edge of catastrophe at all times.
"...With Keith, my job was keeping time, because he didn't do that," Townshend added. "So when he passed away, it was like, 'Oh, I don't have to keep time anymore."
Townshend acknowledged that he and front man Roger Daltrey have famously come to blows on multiple occasions, but nowadays the guitarist has only praise for his lead singer.
"I like all his eccentricities, his foibles, his self-obsession and his singer thing. Everything about him," Townshend concluded.
The Who's new album, WHO, the band's first in 13 years arrives December 6.
Get all The Who's tour dates here.
Photo: Getty Images
Chat About Pete Townshend Loves The Who Without "Difficult" Keith Moon, John Entwistle