Selena Gomez Recruits Kid Cudi, 6LACK For New Album 'RARE': See The Trailer
By Hayden Brooks
December 12, 2019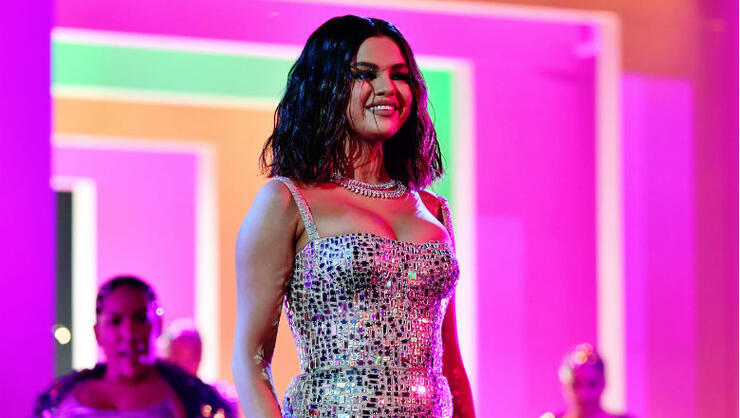 Selena Gomez's upcoming album has a name and the set is titled RARE, as per the star's new extended trailer for the collection.
On Thursday (December 12), the pop star, 27, unleashed a new trailer for the set and it features several goodies. Not only did the montage include the mostly-white artwork for the album, which features a portion of her on the ground, but the clip also features snippets of album cuts. Among some of the titles featured on the collection include the title track, "Dance Again," "Ring," "Vulnerable," "People You Know," "Let Me Get Me," "Kinda Crazy," "Fun" and "Cut You Off." 6LACK and Kid Cudi are also included (separately) on the set on the respective tracks "Crowded Room" and "A Sweeter Place."
Over on Instagram, Gomez reflected on the set by admitting that it's the most honest piece of music that she's ever created. "Can't believe I'm revealing the art and title for my new album RARE, out January 10th. It's the most honest music I've ever made and I can't wait for you to hear my heart," she captioned the video. RARE is currently available for preorder.
RARE, which was four years in the making, was the subject of our latest interview with the chart-topper. "I sound like such a nerd, but I cannot wait for this to come out," she gushed of the project. "It has taken a few years, and things that started in the beginning are solid and still a part of my record, and then some just came naturally and just ... it was so easy. I mean, I shouldn't say that. I was actually kind of a nightmare, but it was very easy to me when I sat down with the records and said, 'This is exactly how it's supposed to sound.'"
Chat About Selena Gomez Recruits Kid Cudi, 6LACK For New Album 'RARE': See The Trailer