Cardi B's Daughter Can Sing, Toddler Shows Off Her Vocals In Cute Video
By Peyton Blakemore
December 18, 2019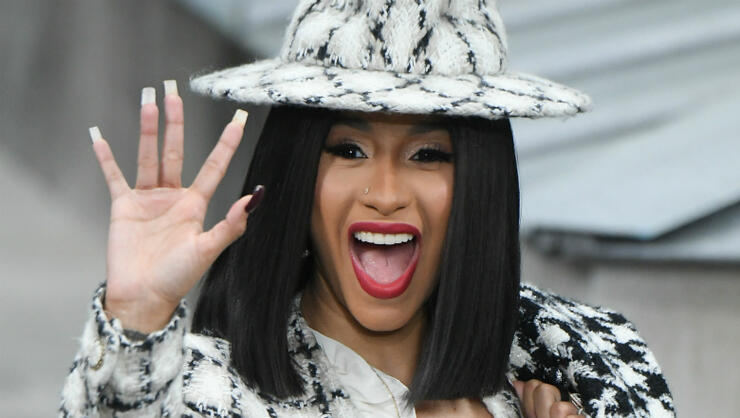 Like mother like daughter!
While Kulture may be a few years away from making her rap debut, the 17-month-old star-in-the-making is already showing off her musical capabilities.
On Tuesday (December 17), proud mom Cardi B shared a video of her baby girl singing her little heart out while alongside her aunt Hennessy. "Head, shoulders, knees and toes," the duo sang before getting to Kulture's favorite part, "and eyes and ears and mouth and nose," which caused the little one to elevate her sweet tone and smile ear-to-ear.
The aunt and niece duo continued to sing the nursery rhyme as it picked up speed, with Kulture pointing to her corresponding body parts as the song instructed.
Cardi appropriately captioned the oh-so-sweet clip of her younger sister and daughter: "My babies ❤️❤️."
Earlier this month, the "Press" rapper opened up about motherhood, telling Vogue, "Being a mom—how can I say it? Things are a little bit harder to balance, but it's good for the mental. Like, if I'm playing with my daughter, I forget about the issues."
"I could shake my a**, I could be the most ratchet-est person ever, I could get into a fight tomorrow, but I'm still a great mom," she continued. "All the time I'm thinking about my kid. I'm shaking my a**, but at the same time I'm doing business, I'm on the phone with my business manager saying, make sure that a percentage of my check goes to my kid's trust. I give my daughter so much love, and I'm setting her up for a future. I want to tell her that a lot of the sh*t that I have done in life—no matter what I did, knowing that I wanted to have kids made me go harder to secure a good future for my kids."
Cardi added, "I'm busting my a** right now so you could have a good car when you're 18, so you can go to school and have an apartment that I could pay for. If my daughter wants to go to college, that's okay, but I just want her to be an owner of whatever the f**k she wants to own. Just be an owner. Be the boss."
Photo: Getty Images
Chat About Cardi B's Daughter Can Sing, Toddler Shows Off Her Vocals In Cute Video