Miley Cyrus & Cody Simpson Spark Breakup Rumors: Cody's Sister Speaks Out
By Paris Close
December 23, 2019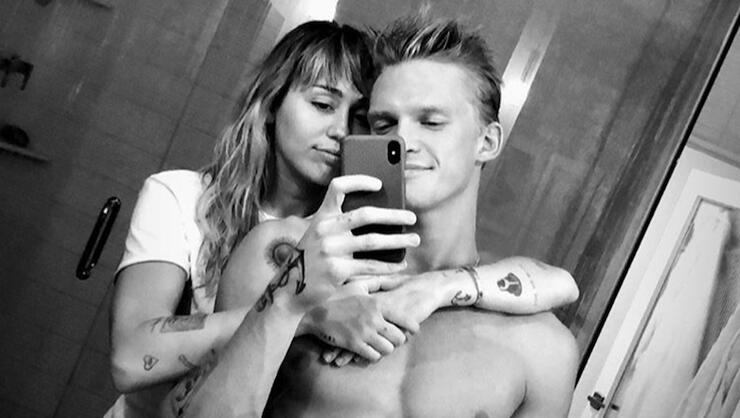 Are Miley Cyrus and Cody Simpson headed for a breakup?
Fans are beginning to notice the couple has been pretty silent lately, having posted no lovey-dovey snaps together on their respective Instagram accounts at all this month. It also didn't make matters worse when, over the weekend, Cyrus expressed feeling "lonely" when she released a "sad Christmas" song ahead of the holidays, as Simpson was spotted hanging out with another girl.
Cyrus wrote with a link to the deep cut: "A sad Christmas song I wrote a few years back right before the holidays. Was feeling like s—t cause I couldn't be with the one I loved. Even with a house full of family and friends I still felt alone…. If you feel lonely this season just know YOU ARE COMPLETELY MADE OF MAGIC!"
On Cody's part, Smilers nearly lost it when TMZ photographed the Australian crooner hanging out with Playboy model Jordy Murray in New York City over the weekend. The timing of it all was … telling, to say the least.
However, despite speculations of their breakup, Cody's sister, Alli, told the Daily Mail her brother and the "Malibu" pop star are far from Splitsville. "Yes [they're] together for sure," she confirmed to the outlet, explaining that the Playmate is actually the girlfriend of Cody's best friend Ryan Mcarthy, who the crooner was only "visiting … for a couple days."
As fans know, Cyrus and Simpson started dating in October. Since then, they've been engaging in tons of social media PDA. Not to mention, the 22-year-old even released a ballad inspired by his lady love called "Golden Thing" — so you know it's real.
In ways that still feels relevant and someone reading this right now could possibly relate! If you feel lonely this season just know YOU ARE COMPLETELY MADE OF MAGIC! You are as special as a snowflake , beautifully unique and I hope inside your soul feels light, hope , peace...

— Miley Ray Cyrus (@MileyCyrus) December 22, 2019
Chat About Miley Cyrus & Cody Simpson Spark Breakup Rumors: Cody's Sister Speaks Out