Cardi B & Offset Show Off Their Huge New Mansion
By Peyton Blakemore
December 26, 2019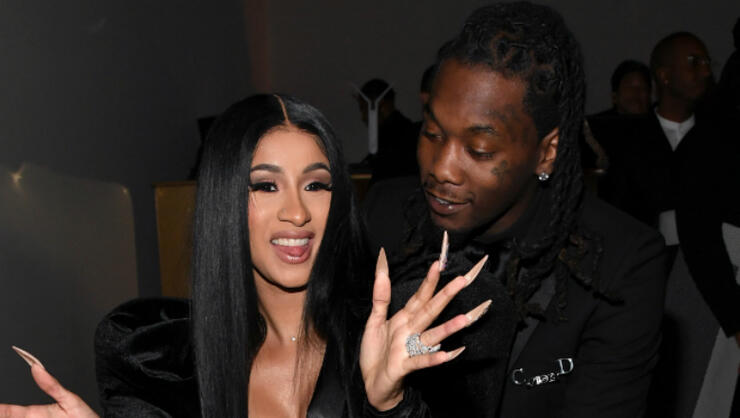 Alexa, play The Jefferson's theme song because Cardi B and Offset are movin' on up!
As a Christmas gift to themselves, the power couple closed on their dream home late Tuesday evening (December 24). And Cardi B being Cardi B, she shared the big moment with her fans on Instagram, posting over half a dozen videos of her and Offset's huge Atlanta mansion.
"Closing time @offsetyrn and I been house hunting for the past 2 years with our realtor @b_luxurious," the New York City native captioned the first video of her new home. She then opened up about the roadblocks she and Offset faced while trying to find it, explaining that it's been a long road.
"It has been a roller coaster," she wrote. "Houses that @offsetyrn liked there was always a room I didn't like that we couldn't agreed on 😩and a couple houses that I liked @offsetyrn said NO because the areas they where in are not to good.We even though about building a house but with a family that's a bit complicated .With the help of @b_luxurious and God WE GOT OUR HOUSE!!!!! Sorry if the videos don't fit so well on Instagram."
According to TMZ, the couple's new three-story home is 22,500 square feet and cost a whopping $5.75 million dollars.
As shown in Cardi's in-depth Instagram house tour — she literally showed every floor, every room, every corner of the Atlanta mansion — the home is well worth its hefty price tag as it sits on seven acres of land, features a gun range, which is equipped with steel walls, a wine cellar, pool, man cave, and a whole lot of space!
See more videos of Cardi and Offset's mansion HERE, HERE, HERE, HERE, HERE, and HERE.
Photo: Getty Images
Chat About Cardi B & Offset Show Off Their Huge New Mansion