Tim McGraw Says 'Microgoals' Are Key To Achieving Your Resolutions In 2020
By Blake Taylor
December 27, 2019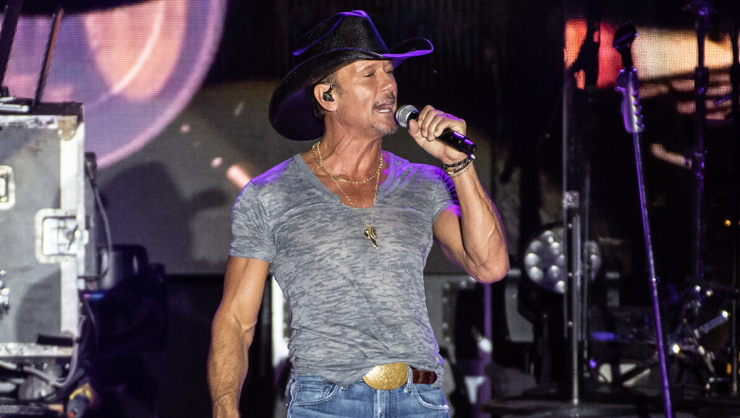 It's been about a decade now since country music star, Tim McGraw, decided to make some serious lifestyle changes to better his health and wellness.
Back in 2008, McGraw starred in the movie Four Christmases. While watching her father in the movie, the then-11-year-old, Gracie, commented that her dad looked "big on the screen." This comment stuck with McGraw as it was the initial motivation for his fitness transformation.
McGraw documents his journey for others to read while offering specific lifestyle, nutrition and fitness advice in his new book, Grit & Grace: Train the Mind, Train the Body, Own Your Life.
In one part of the book McGraw talks about the psychology of goal-setting, according to Inc. He offers one specific tip that will help you achieve your New Year's resolution in 2020.
McGraw suggests that people are more likely to stick to a goal if they divide it into "microgoals." This is the same method McGraw used throughout his health journey. His first microgoal was to take a morning walk every day for six weeks.
"Setting microgoals helps break down the bigger dream into actionable chunks," McGraw writes. "It's easier to stay on the path when you aim for destinations that are well within sight."
After achieving his first goal, McGraw continued to add additional microgoals. The ideal body that he wanted to have five or ten years later was too big of a goal to tackle all at once. The best way to successfully reach the end goal was for him to take it one step at a time to avoid burnout and frustration.
A recent study reported by the New York Times backs up McGraw's approach. The article revealed that 80 percent of people who set New Year's resolutions give up by February. They give up on their commitments because the goals are too ambitious for the time-frame or too vague.
Additionally, a study from the University of Chicago suggests that "immediate rewards increase goal persistence." Frequent and tiny rewards throughout your fitness journey will help increase your commitment to reaching the end goal.
The rewards don't have to be anything huge or even tangible. According to Inc., often times the pleasure of completing a task triggers the brain's reward mechanism.
Although instant results would be nice, they aren't necessarily realistic. Microgoals serve as a "pillar of discipline" to keep your mind focused on your priorities.
Chat About Tim McGraw Says 'Microgoals' Are Key To Achieving Your Resolutions In 2020