Camila Cabello Caught Licking Shawn Mendes' Face At Toronto Restaurant
By Paris Close
December 28, 2019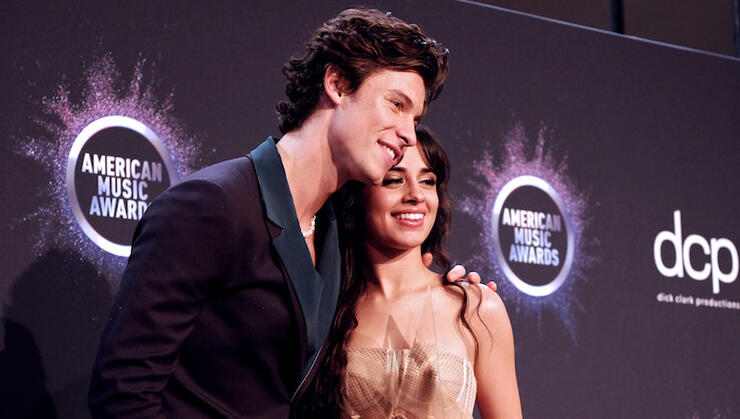 Camila Cabello and Shawn Mendes just gave puppy love a new meaning.
The "Senorita" musicians took their PDA to the next level after engaging in some serious smooching on Friday night (December 27). According to TMZ, who obtained footage of Shawmila lip locking in real time, the stars decided to break from their late-night dinner date at Chubby's Jamaican kitchen in Toronto to swap spit like nobody was watching.
What started as pretty playful tongue-kissing quickly evolved into something far more NSFW when the "Living Proof" songbird suddenly grabbed her boyfriend by the head and proceeded to lick his face. Repeatedly.
While Shawmila stans will write the moment of intimacy as an act of young love. For the rest of the world, it's living proof that the couple still haven't quite mastered the art of kissing. Fans will recall how Cabello and Mendes hilariously hit back at haters who claimed they "kiss like fish" with an even more slobber-filled smooch sesh on Instagram.
Despite shade from naysayers, the "Lost in Japan" musician and Cabello have been going at it since this summer. "People can say whatever they want to say. They can speculate, but at the same time, we are going to live our own lives, enjoy it, and fall for each other like nobody is watching," Cabello expressed in Elle's Women in Music issue. "I never want to open the door for people to feel like they are involved. I want it to be mine and [his]. That's why I'm so tight-lipped about it: because I want to protect it."
Photo: Getty Images
Video: TMZ
Chat About Camila Cabello Caught Licking Shawn Mendes' Face At Toronto Restaurant