Ozzy Osbourne Is Working On A Song With Elton John, Sharon Says
By Andrew Magnotta @AndrewMagnotta
January 7, 2020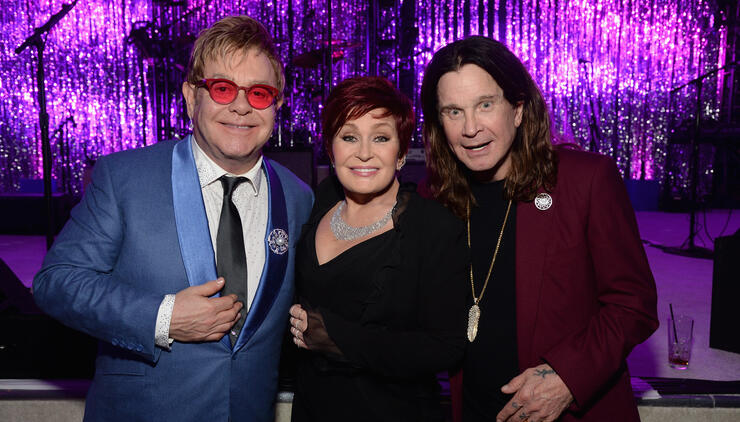 Part of Ozzy Osbourne's road to recovery has included collaborating with Elton John on a new song, according to Sharon Osbourne.
While 2019 was a year from hell for the Prince of Darkness, Sharon explained on CBS's The Talk that the collaboration with Sir John is part of what she hopes will be a year of "good stuff" for her heavy metal legend husband.
Sharon was asked about Ozzy's New Year's hopes.
"A lot of good things," she replied. "Wellness. And to get back with his band, to get doing what he loves, which is touring and being out there with his fans. And yes, there's new music, and it's great. He's got all his friends playing on it. He's doing a song with Elton. There's so much good stuff."
Ozzy's upcoming album, Ordinary Man, features Guns N' Roses bassist Duff McKagan and Red Hot Chili Peppers drummer Chad Smith, in addition to producer Andrew Watt on guitar.
Sharon did not say whether the song with John is on Ordinary Man or if it is to be released separately. Ozzy and John are longtime friends who previously worked together on the 2011 animated film Gnomeo & Juliet, which was produced by one of John's companies.
Ozzy expressed some interest in creating new music before launching his 'No More Tours 2' farewell tour in 2018, but he didn't announce any concrete plans prior to the completion of the album.
After postponing his tour for all of 2019 due to complications from the flu, pneumonia and then neck surgery after a nasty fall at home, Ozzy rekindled his creative spark featuring on Post Malone's "Take What You Want."
The "Take What You Want" session proved fateful in that it introduced Ozzy to Watt with whom he wrote Ordinary Man in just a few days.
Ozzy's 'No More Tours 2' farewell is scheduled to resume in March. Go here for tickets and more information.
Photo: Getty Images
Chat About Ozzy Osbourne Is Working On A Song With Elton John, Sharon Says