Best Video Nominees Need Your Votes To Win A 2020 iHeartRadio Music Award
By Shayna Spero
January 8, 2020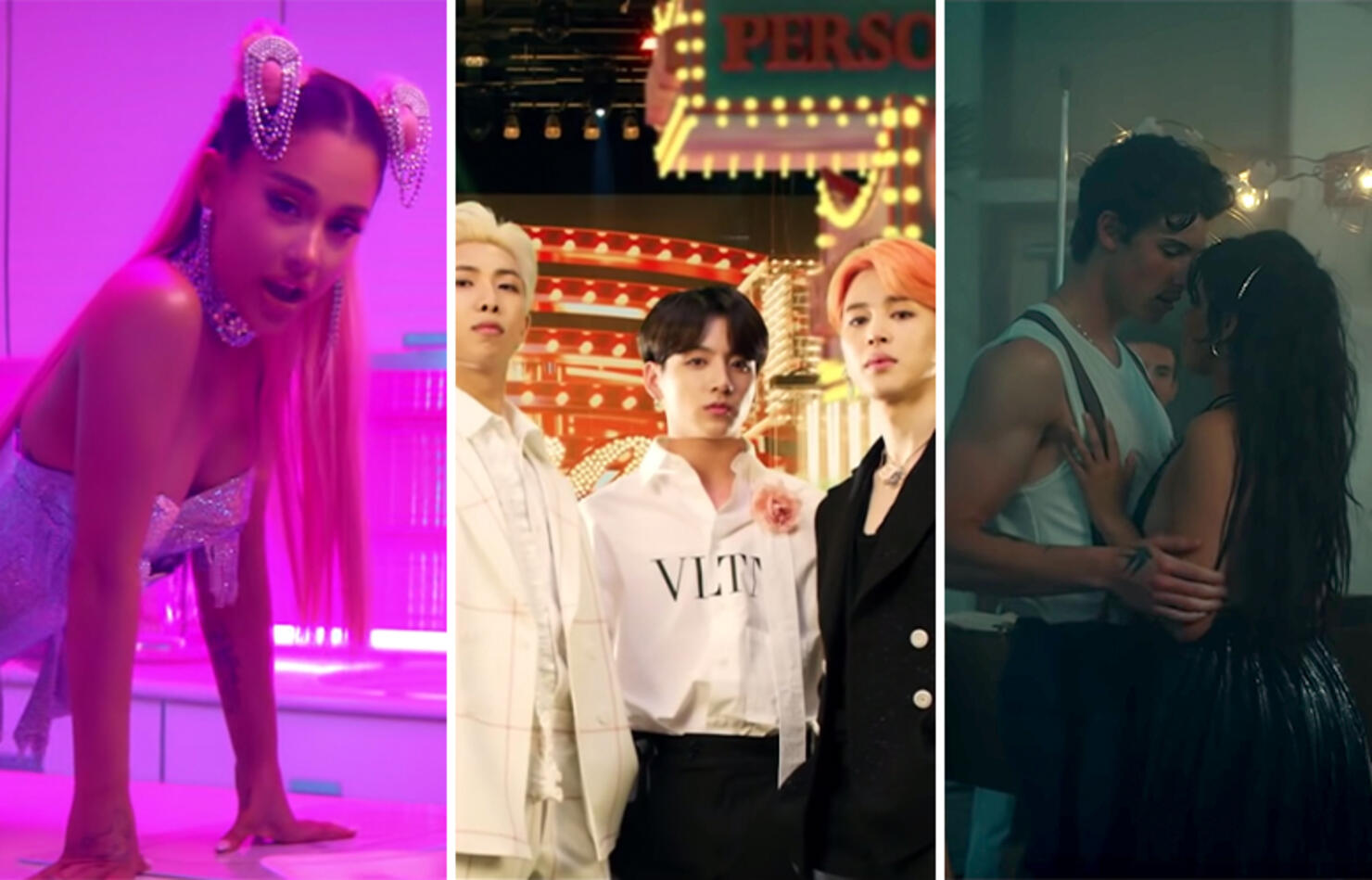 The nominees for the 2020 iHeartRadio Music Awards have been revealed. As always, we have given our listeners the opportunity to decide the winners in several categories, including Best Music Video. From Camila and Shawn's steamy music video for "Senorita" to memorably choreographed music videos like BTS and Halsey's "Boy With Luv" and Daddy Yankee's "Con Calma", it is tough to choose just one.
Social voting begins today, January 8th, and will close on Monday, March 23rd at 8pm ET/5pm PT for all categories, except for Best Fan Army which will continue through Friday, March 27th at 9am ET/6am PT. Fans can vote using the appropriate category and nominee hashtags or by visiting iHeartRadio.com/awards. Before you vote, scroll below to see the complete list of Best Music Video nominees.
1. "7 rings" - Ariana Grande
In the video for Grande's friendship anthem, "7 rings", the pop titan throws a blinged out, pink-themed party for all of her friends.
2. "bad guy" - Billie Eilish
When Billie is not in snorkel gear, surrounded by men's floating heads, she is goofing off in mini cars and rolling around the floor in the vibrantly colored music video for one of the biggest songs of 2019.
3. "Boy With Luv" - BTS ft. Halsey
The visually appealing, pastel dream of a music video finds the K-pop superstars dancing around a movie theater and diner before taking a joyride with Halsey.
4. "Con Altura" - ROSALÍA & J Balvin ft. El Guincho
Rosalía and J. Balvin celebrate living the high life with a party in a private jet with El Guincho as their pilot.
5. "Con Calma" - Daddy Yankee & Snow
Topping YouTube's most-watched list for 2019, the electric music video for "Con Calma" features an Animoji version of Daddy Yankee named Sikiri dancing alongside members of Chapkis Dance Family.
6. "Dancing With A Stranger" - Sam Smith & Normani
Normani steals the show with beautiful choreography while lamenting a lost love.
7. "I Don't Care" - Ed Sheeran & Justin Bieber
The "I Don't Care" music video follows Justin and Sheeran's goofy trip into random scenes, all thanks to a little green screen magic.
8. "Kill This Love" - BLACKPINK
Members of the K-pop quartet appear in different scenes; a supermarket, medieval castle, driving a getaway car and inside of a bear trap, as they perform their dynamic choreography.
9. "ME!" - Taylor Swift ft. Brendon Urie
Taylor Swift and Brendon Urie gave us a wonderland jam packed with moments like a snake exploding into butterflies, dancers donned in pastel suits, Dixie Chicks and her famous cats.
10. "Old Town Road" - Lil Nas X ft. Billy Ray Cyrus
Collaborators Lil Nas X and Billy Ray Cyrus are cowboys on the run that get transported to the future in this celebrity-filled video.
11. "Señorita" - Shawn Mendes & Camila Cabello
Camila and Shawn play strangers that fall in love at first sight in the heated, PDA-filled video.
12. "Sucker" - Jonas Brothers
Nick, Joe, and Kevin Jonas' reunion started off with a bang when they released the video for their comeback single, "Sucker". Featuring their real life leading ladies, the guys enjoy the lavish life in a mansion.