Beyonce & JAY-Z Send Reese Witherspoon Champagne After 2020 Golden Globes
By Hayden Brooks
January 9, 2020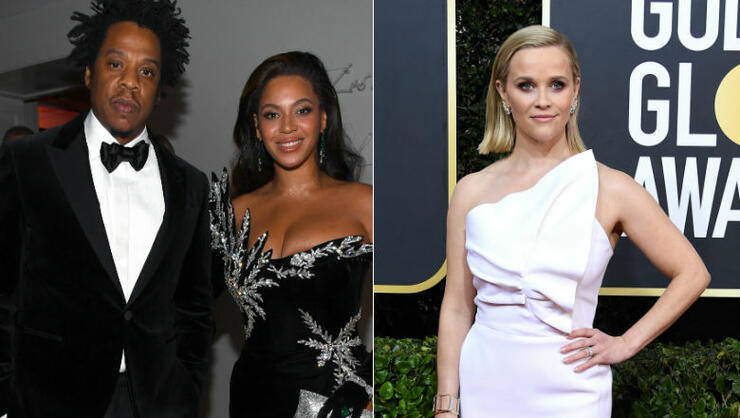 Reese Witherspoon didn't walk away empty handed at the 2020 Golden Globe Awards and she has Beyoncé and JAY-Z to thank for that.
On Thursday (January 9), The Morning Show actress took to Instagram Story to share footage of a gift that she received from the powerhouse couple. . "I just got home from New York and the most beautiful flowers are here and, guys, a case of Ace of Spades champagne. I'm about to read the note. It says, 'More water, from Jay and B,'" Witherspoon, 43, says in the clip, before sharing a sip of the bubbly with her mother, Betty.
Witherspoon's gift arrived after she shared a meme of herself photoshopped into a shot alongside the chart-toppers. "When you hear Reese Witherspoon is thirsty," the caption to the post read. The meme was spawned by the actress' own doing after she asked Bey and HOV for a glass of their champagne after her table ran out of water at the Golden Globes. Thankfully, her Morning Show co-star was quick to capture the moment via her own Instagram Story.
"Reese!? This is one of the many reasons I love you," Aniston captioned a shot of the actresses. "We ran out of water at our table So naturally, she asked Jay Z and Beyoncé for a glass of their champagne."
Beyoncé and Jay-Z sent Reese Weatherspoon flowers and a case of Ace of Spades ♠️ champagne. With a note that says, "More Water" pic.twitter.com/rwQcQQ6gcu

— 🗞📰 Yoncé Headlines📰🗞 (@YonceHeadlines) January 9, 2020
Chat About Beyonce & JAY-Z Send Reese Witherspoon Champagne After 2020 Golden Globes