Nick Cannon Takes Aim At Eminem & His Fans On Latest Diss Track
By Peyton Blakemore
January 15, 2020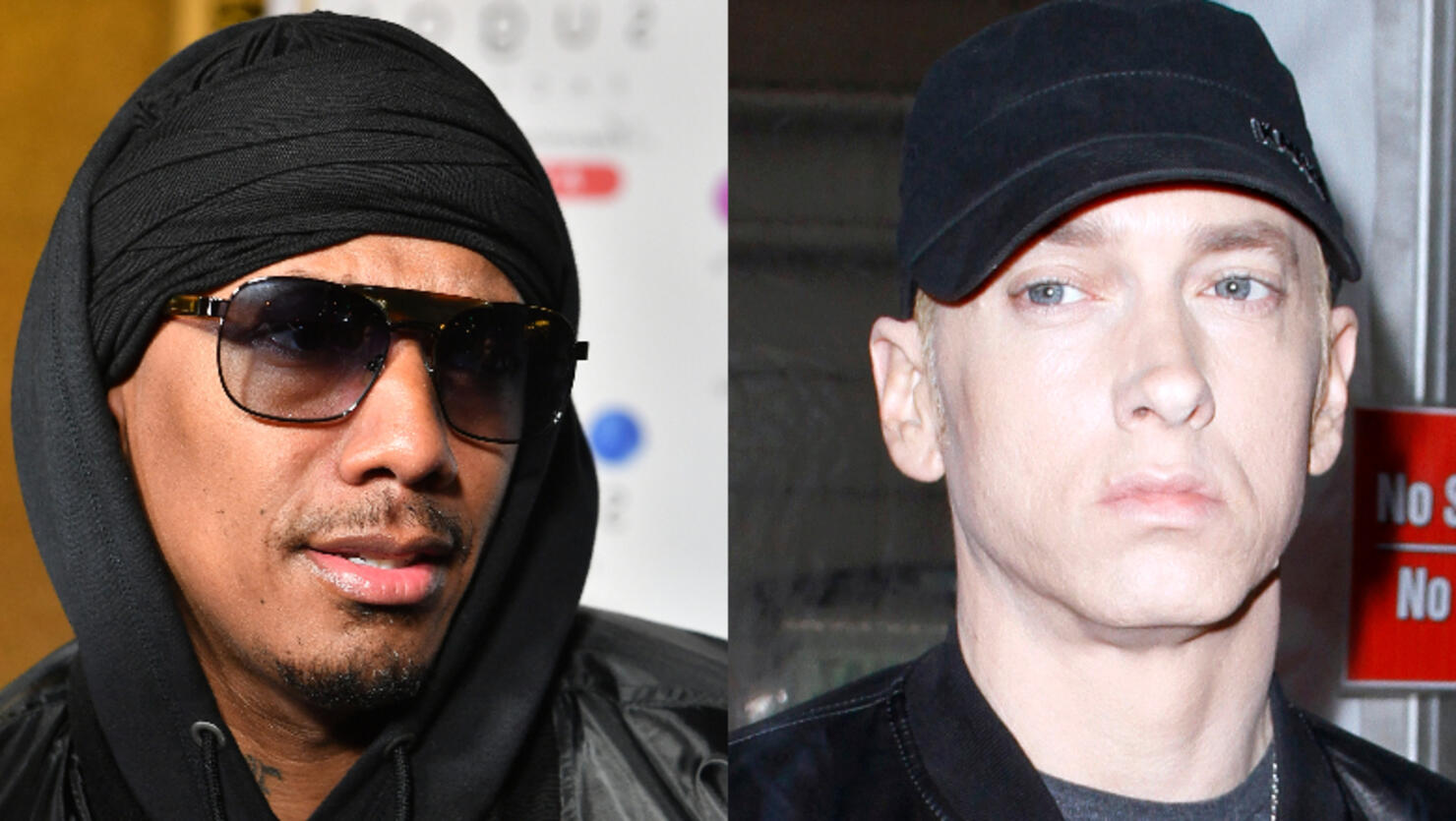 Nick Cannon is back with another Eminem diss track, but this time he's also calling out the rapper's fans.
Since Eminem has basically ignored his three prior attacks — "The Invitation," "Pray for Him," and "Canceled: Invitation" — the Wild 'N Out host turned his attention to Eminem stans on his latest diss track titled "Used to Look Up to You."
The song, which is off Nick's new 7-track mixtape, The Miseducation of the Negro You Love to Hate, calls out the "Killshot" rapper's supporters for simply having his back. "Ni**as out here tweeting like they been a savage / D*ck-riding on Marshall Mathers," Nick raps. "Had to put on my turban like I'm Aladdin / Ni**as out here cappin', black lives matter." The song goes on to further attack Eminem.
As fans know, Em reignited his decade-long feud with Nick last month, calling out the Wild 'n Out host and his ex-wife Mariah Carey in a verse on Fat Joe's track, "Lord Above." Nick then decided to come back at Eminem with a few bars of his own, dropping not one, but two diss tracks targeted at Slim Shady.
In his first diss track, titled "The Invitation," which dropped on December 9, Nick took shots at Eminem's daughter, Hailey, his ex-wife, Kim, and even Eminem's sexuality, accusing the "Killshot" rapper of having an affair with his chauffeur. "Call Kim, somebody get Hailey and that other kid you raising that ain't even your baby," Nick raps. The 39-year-old entertainer also referenced his ex-wife Mariah's old feud with Eminem, rapping, "My baby mama killed you off a decade ago/You still crying about it b*tch, now who really the h*e?"
Nick returned with a second diss record the following day, titled "Pray for Him." In addition to Nick taking shots at Em, the song features members of The Black Squad taking turns going after the "Mockingbird" rapper as well. "Lord forgive us/I know that it's kinda wrong/For five brothers this talented to be on one song," the track begins. "But that white boy, he is nice/But he crossed the black man, Jesus Christ/We gonna pray for him."
After the guys swap bars attacking Em, Nick comes in at the end of the song, rapping "No you debate and hated and viewed in America as a motherf**king drug addict/You'll never be a legend/ Now when you stop and start to stare at who's in the mirror/Look at all that f**king botox, b*tch I know you embarrassed."
Despite a lack of response from Eminem, Nick didn't let up. Shortly after he dropped "Pray For Him," the Masked Singer host released "Canceled: Invitation." For the third track of his four-part diss track series, Nick included a clip of a never-officially-released Eminem song (which the rapper has previously apologized for) that features Em attacking Black women.
On "Canceled," you hear Eminem rap, "black girls are b*tches," and "black girls are dumb," before Nick goes into great detail about why Eminem should be canceled.
It should be noted that Eminem has not released a diss record in response to Nick's now-four diss tracks. The Detroit rapper did, however, tweet after the release of Nick's first track: "U mad bro? Stop lying on my d*ck. I never even had a chauffeur, you bougie f*ck.🤡." He later added, "I demand an apology Nicholas, you've made my gardener so jealous!"
Photo: Getty Images